The long awaited annual CD compilation of 10 of the Top songs on Botswana Radio in 2016 has been released. Hunter's AirPlay Hits Volume 1 released by AFSTEREO Botswana is a collection of 10 songs that dominated the airwaves in the entire year of 2016.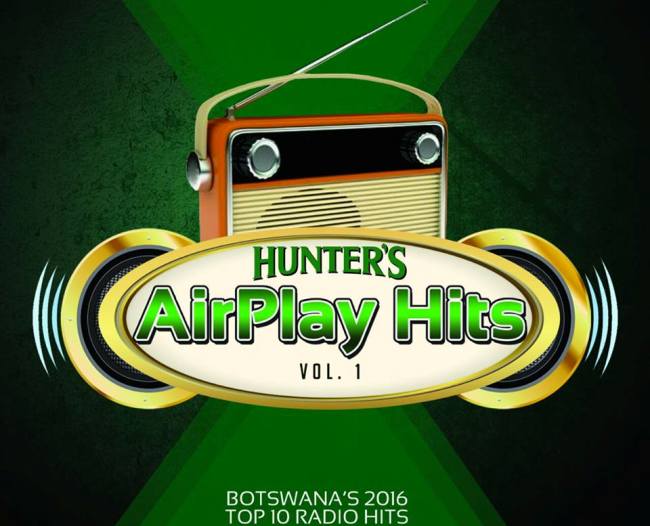 Making up the 10 hit songs list are: Black Mampatile by Amantle Brown; Changes by Team Distant featuring Han-C; Sedi Laaka by Chrispin The Drummer & Team Distant Featuring Han-C; Our Golden Year by DJ Izzy featuring Amantle Brown, BanT, DramaBoi, Sasa Klaas & Han-C; Moengele by DJ NT Base, Ditlo Boa by Samba T & Q.bio; Naomi by Ban T, Love's Light by Mpho Sebina, Motho O Blaa Motho by Juju Boy and Heartbeat by German Dollar Featuring. Sasa Klaas.
The songs were selected from AFSTEREO's AirPlay Music Chart for the entire year, which showed that Amantle Brown's Black Mampatile was the most play listed song on all the five Botswana Radio Stations in 2016. It goes without saying since Amantle got several awards from this particular song.
AFSTEREO Botswana is the leading supplier of real-time radio and television advertising and music insights to the media, marketing, research, auditing, regulatory and music industries in Botswana.
The company's Managing Director David Moepeng says the Hunter's AirPlay Hits CD compilation is another initiative by the company, in partnership with Hunter's, to use its music insights to promote local music. He says they plan to release a compilation CD every year with Volume 2 scheduled for release in December 2017.
Comments
comments