Kwasa kwasa Star Attacked At His Home. Ke lela le Lona hit maker, Franco Lesokwane was attacked by unknown intruders at his home lat night.
The intruders tried to burn the musician in his house and also torched his car. Luckily it seems no one was injured and the both his properties even were not totally destroyed in the fire, they sustained minor injuries,lol.
The star took to social media to share the awful experience.
"Ba gana go utlwa gotwe motho o tsweletse…
Someone tried to burn the house and the car ka bomo ya petrol…" he wrote.
Well that's really bad nut we thank God no one was hurt.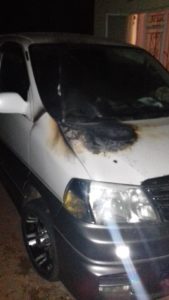 Comments
comments