News
𝐖𝐎𝐌𝐄𝐍 𝐈𝐍 𝐒𝐏𝐎𝐑𝐓𝐒 𝐀𝐖𝐀𝐑𝐃𝐒 𝐒𝐋𝐀𝐓𝐄𝐃 𝐅𝐎𝐑 𝐌𝐀𝐑𝐂𝐇 𝟐𝟎𝟐𝟑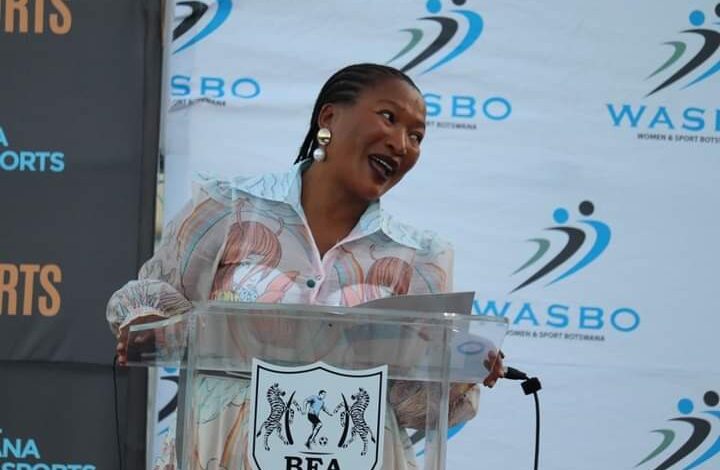 Though having excelled in sports over the years, Women have not been celebrated enough. Delivering welcome remarks at the Inaugural Launch of Women in Sports Awards event last night, the Inside Sports BW Women Sports Chief Executive Officer, Ms Kesego Kebelaele-Okie highlighted that women in sports awards were birthed two (2) years ago. This was a result of looking for ways to celebrate women in sports out of the realization of little to non-recognition . Ms Kebelaele-Okie stated that Gender parity continues to be an issue globally that requires all of us to come together and address.
These awards organized by Inside BW Women Sports in partnership with Women & Sport Botswana (WASBO), BNSC, BFA, will take place in Gaborone on the 25th March 2023. The awards will be a build up towards the Botswana National Sport Awards. The awards will be recognizing women for their performance from January 2021 to December 2022. The award ceremony will also offer a pat on the back to organizations, and indeed men who have a huge passion to participate in women in sports.
Ms. Kebalaele-Okie highlighted the categories for the inaugural Botswana Women in Sports Awards as: Sports Woman of the year; coach of the year; sports journalist of the year in print, tv, radio and photography; administrator of the year; Young promising female athlete; sports women of the year with disability; team of the year; Emperor of the year, team of the year; courage award; he-for she champion; and CEO's award.
Delivering her keynote address, the Botswana National Sports Commission Deputy Chairperson, Ms Tebogo Lebotse-Sebego expressed her delight to be launching the awards and noted that the awards are a key milestone for women in sports and a big step towards the development of the women's game. Ms Lebotse-Sebego encouraged the Women in Sports Botswana (WASBO) to not despair in their endeavor to ensure that women continue to raise their hands and never give up no matter how hard it gets. She further said that BNSC views this initiative as beyond diversity and inclusion but also an intentional step towards the development of women sports. She advised that there is a need to speak more about women in sports, what women do in sports, what leaders do and what more can be done to achieve as coaches, administrators and even as volunteers. She stressed that the awards are beyond diversity and inclusion, but also about growing beyond celebration, growing a brand that will be recognized nationally and internationally.
The sponsors were announced as WASBO, BNSC, BNOC, BFA, Blue Skies PR, Adventure 99, VTM Security, Lewakel Events, Woolworth Botswana, Ace Clothing, Hilton Garden Inn Gaborone, Dinkgwana Chillas Pub and Grill, Nubian Seed, Motswedi, Murali Rao and Keyman ventures.