News
𝗠𝗔𝗦𝗖𝗢𝗠 𝗖𝗢𝗠𝗠𝗨𝗡𝗜𝗧𝗬 𝗦𝗨𝗣𝗣𝗢𝗥𝗧, 𝗖𝗢𝗩𝗜𝗗–𝟭𝟵 𝗣𝗔𝗡𝗗𝗘𝗠𝗜𝗖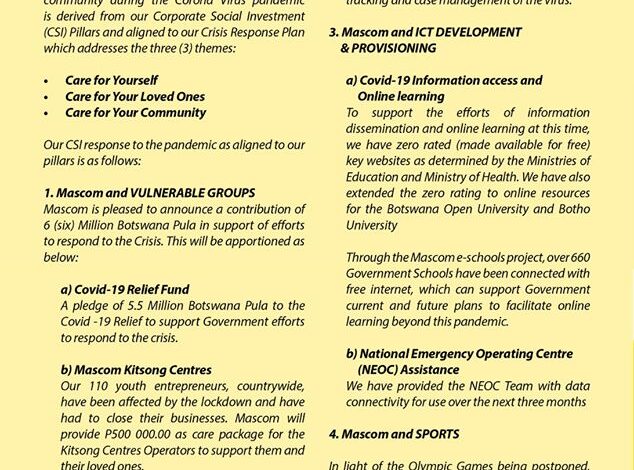 𝗠𝗔𝗦𝗖𝗢𝗠 𝗖𝗢𝗠𝗠𝗨𝗡𝗜𝗧𝗬 𝗦𝗨𝗣𝗣𝗢𝗥𝗧, 𝗖𝗢𝗩𝗜𝗗–𝟭𝟵 𝗣𝗔𝗡𝗗𝗘𝗠𝗜𝗖
As a Public Interest Entity committed to the development of the telecommunications industry in Botswana and also a proud corporate citizen, our commitment to supporting and caring for the community during the Corona Virus pandemic is derived from our Corporate Social Investment (CSI) Pillars and aligned to our Crisis Response Plan which addresses the three (3) themes:
– 𝗖𝗮𝗿𝗲 𝗳𝗼𝗿 𝗬𝗼𝘂𝗿𝘀𝗲𝗹𝗳
– 𝗖𝗮𝗿𝗲 𝗳𝗼𝗿 𝗬𝗼𝘂𝗿 𝗟𝗼𝘃𝗲𝗱 𝗢𝗻𝗲𝘀
– 𝗖𝗮𝗿𝗲 𝗳𝗼𝗿 𝗬𝗼𝘂𝗿 𝗖𝗼𝗺𝗺𝘂𝗻𝗶𝘁𝘆
Our CSI response to the pandemic as aligned to our pillars is as follows:
𝟭. 𝗠𝗮𝘀𝗰𝗼𝗺 𝗮𝗻𝗱 𝗩𝗨𝗟𝗡𝗘𝗥𝗔𝗕𝗟𝗘 𝗚𝗥𝗢𝗨𝗣𝗦
Mascom is pleased to announce a contribution of 𝟲 (𝘀𝗶𝘅) 𝗠𝗶𝗹𝗹𝗶𝗼𝗻 𝗕𝗼𝘁𝘀𝘄𝗮𝗻𝗮 𝗣𝘂𝗹𝗮 in support of efforts to respond to the Crisis. This will be apportioned as below:
𝗮) 𝗖𝗼𝘃𝗶𝗱-𝟭𝟵 𝗥𝗲𝗹𝗶𝗲𝗳 𝗙𝘂𝗻𝗱
A pledge of 5.5 Million Botswana Pula to the Covid -19 Relief to support Government efforts to respond to the crisis.
𝗯) 𝗠𝗮𝘀𝗰𝗼𝗺 𝗞𝗶𝘁𝘀𝗼𝗻𝗴 𝗖𝗲𝗻𝘁𝗿𝗲𝘀
Our 110 youth entrepreneurs, countrywide, have been affected by the lockdown and have had to close their businesses. Mascom will provide P500 000.00 as care package for the Kitsong Centres Operators to support them and their loved ones.
𝟮. 𝗠𝗮𝘀𝗰𝗼𝗺 𝗮𝗻𝗱 𝗠𝗢𝗕𝗜𝗟𝗘 𝗛𝗘𝗔𝗟𝗧𝗛
𝗮) 𝗖𝗼𝘃𝗶𝗱 -𝟭𝟵 𝗥𝗮𝗽𝗶𝗱 𝗧𝗲𝘀𝘁 𝗞𝗶𝘁𝘀
Mascom pledges 3000 Covid -19 rapid test kits to the Ministry of Health to increase the country's ability to test more people for the virus.
𝗯) 𝗖𝗼𝘃𝗶𝗱-𝟭𝟵 𝗧𝗿𝗮𝗰𝗸𝗶𝗻𝗴 𝗦𝘆𝘀𝘁𝗲𝗺
In collaboration with the Ministry of Health and UNICEF, Mascom has provisioned zero rating for a surveillance tracker that is being used for tracking and case management of the virus.
𝟯. 𝗠𝗮𝘀𝗰𝗼𝗺 𝗮𝗻𝗱 𝗜𝗖𝗧 𝗗𝗘𝗩𝗘𝗟𝗢𝗣𝗠𝗘𝗡𝗧 & 𝗣𝗥𝗢𝗩𝗜𝗦𝗜𝗢𝗡𝗜𝗡𝗚
𝗮) 𝗖𝗼𝘃𝗶𝗱-𝟭𝟵 𝗜𝗻𝗳𝗼𝗿𝗺𝗮𝘁𝗶𝗼𝗻 𝗮𝗰𝗰𝗲𝘀𝘀 𝗮𝗻𝗱 𝗢𝗻𝗹𝗶𝗻𝗲 𝗟𝗲𝗮𝗿𝗻𝗶𝗻𝗴
To support the efforts of information dissemination and online learning at this time, we have zero rated (made available for free) key websites as determined by the Ministries of Education and Ministry of Health. We have also extended the zero rating to online resources for the Botswana Open University and Botho University.
Through the Mascom e-schools project, over 660 Government Schools have been connected with free internet, which can support Government current and future plans to facilitate online learning beyond this pandemic.
𝗯) 𝗡𝗮𝘁𝗶𝗼𝗻𝗮𝗹 𝗘𝗺𝗲𝗿𝗴𝗲𝗻𝗰𝘆 𝗢𝗽𝗲𝗿𝗮𝘁𝗶𝗻𝗴 𝗖𝗲𝗻𝘁𝗿𝗲 (𝗡𝗘𝗢𝗖) 𝗔𝘀𝘀𝗶𝘀𝘁𝗮𝗻𝗰𝗲
We have provided the NEOC Team with data connectivity for use over the next three months
𝟰. 𝗠𝗮𝘀𝗰𝗼𝗺 𝗮𝗻𝗱 𝗦𝗣𝗢𝗥𝗧𝗦
In light of the Olympic Games being postponed, Mascom will continue supporting identified athletes with internet access to access online training resources during this time. This support is in addition to the P200 000.00 we have already provided to the team.
We continue to evaluate more ways to respond as appropriate and we pledge our support to work with the Botswana Government and all stakeholders to fight against the Corona Virus.