News
Trending
"President Masisi should be the first to take the vaccine"- Mmolotsi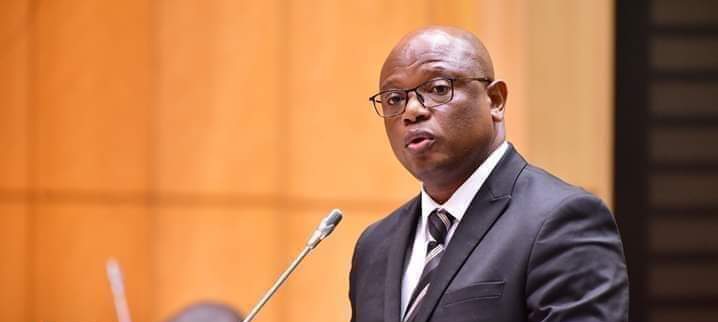 The Member of Parliament for Francistown South- Wynter Mmolotsi says President Mokgweetsi Eric Masisi should lead by example and be the first to take the AstraZeneca vaccine. Mmolotsi is of the view that by doing so the nation will be encouraged to as well take the vaccine.
Of recent, other African Presidents like Paul Kegame of Rwanda, and President Cyril Ramaphosa of South Africa led by example and took the vaccine before everyone to show that the vaccine is safe for use.
"I just witnessed Dr Dikoloti registering for the vaccine. That is nice of the minister but I want to urge you to lead by example and take the vaccine ahead of your minister. This will set the much needed tone and rhythm for the nation. Like I said last week I am more than willing to lead as well and in case you doubt my commitment just give me a call so that we go together. This is very important especially now when nations are so apprehensive about the vaccine. Kindly come along with the VP HH [Vice President His Honor] Slumber Tsogwane." Mmolotsi asserted.
There has been doubts on the safety of the AstraZeneca vaccine as it has been suspended in close twenty (20) states, including Democratic Republic of Congo (DRC) and South Africa (SA). The reports has it that the vaccine causes blood clots on the subjects. However, South Africa suspended the vaccine as it was observed that the 50.1 variant was resistant to the vaccine. The variant was also reported to be present in Botswana.
Mmolotsi used the same breath to condemn an incident where an artist was arrested for acting in a prank. Amantle Brown, an events Master of Ceremonies (MC) based at Shakawe was reportedly arrested this week. She had took part in a prank by Given Carter Bw, where a married woman was caught cheating, which led to penis captivus.
"On the other hand, our comedians are being arrested for their creativity. How far are they allowed to stretch their creativity and imagination? Please give guidance to these young people through their minister especially because you promised to support them. Ga ke itse gore kesi e beilwe ha kae mme [I don't know where the coffin is kept but] I am told the comedian is at Central Police station situated at Assistant Minister Billy's constituency."he charged.