News
Trending
"The President takes people for granted" – Khama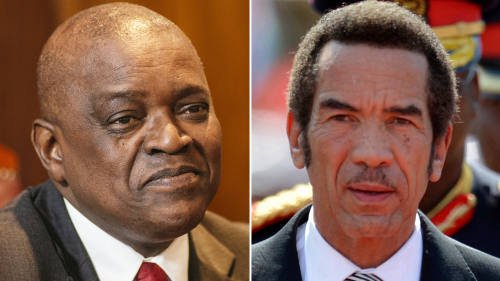 The relationship between the former President Ian Khama and his successor President Mokgweetsi will always be the kind of Tom and Jerry cartoons. Just recently Khama made remarks about Masisi being disrespectful, and that has sparked yet another brutal verbal exchange between BPF and BDP members especially on Facebook.
Commenting on the issue, the Minister of Presidential Affairs and Public Administration- Kabo Morwaeng warned Khama of speaking ill of Masisi as that would attract him unpleasant remarks from Masisi's supporters.
"I heard and saw a video in which Former President, Lt. Gen. Dr. Seretse Khama Ian Khama, spoke about His Excellency the President Dr. Mokgweetsi Eric Keabetswe Masisi, he used unpleasant words according to all the cultures of Botswana. With all due respect, I plead with His Excellency Khama to use pleasant words while addressing the President of this country. Failure to use pleasant words can force some to respond. His Excellency Khama is an elder in the society, as such I plead with him to be examplary. Let Botswana presidency be respected accordingly." Morwaeng pleaded.
For their side, the Botswana Democratic Party National Youth League threatened to verbally attack Former President Khama if he does not stop using 'derogatory' remarks against President Masisi.
"While we have accepted that Lt. Gen. Dr. Khama has, since retirement, become an unpredictable man who at times seems unstable, we wish to place it on record that we are not incapable of deploying his own tactics against him. At this point, the only thing restraining us is our respect for his statesmanship, being a former president.In view of the foregoing, we urge the Former President to disagree with the President of Botswana in a civil manner, failing which we will unleash a gruesome counter assault on his questionable practices. We have a lot we can say about him." Otsile Machona, Youth League General Secretary wrote in a press statement.
These were in response to a circulating video in which Former President Khama said, "We are removing these disrespectful people. Having a President which takes people for granted is not good, he takes you for granted. It is time for you as Batswana to show him that you have the power to remove him and replace him with whoever you want to lead."