News
Trending
UDC election petitioners extremely broke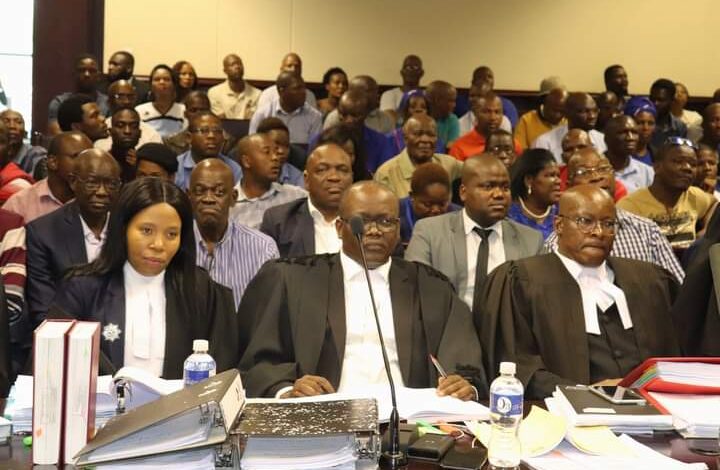 The Chairperson of the fifteen (15) Umbrella for Democratic Change (UDC) 2019 general elections petitioners- Dr Patrick Molotsi is appealing to the nation to assist them in raising funds to settle the bill they have been slapped with by the Botswana Democratic Party (BDP) and the Independent Electoral Commission (IEC).
Speaking earlier today during UDC's press briefing, Molotsi indicated that as the petitioners they are appealing to the nation as they are overwhelmed by financial distress especially that they spent much on election campaigns which they are still trying to recover from.
"Our appeal therefore to the nation and to our members and all the people of goodwill is that this matter is about democracy being at stake. Right now, we are under serious financial stress at family level as the petitioners." Molotsi cried out.
According to Molotsi they convened together as petitioners to plan how to raise the five hundred and sixty-five thousand pula (P565 000) bill from the BDP. Consequently, they agreed to pop out forty thousand pula (P40 000) each, of which fifteen of them would collectively make six hundred thousand pula (P600 000). The amount would cover the bill, then the remaining will be added to the next contribution for IEC which be around or more than hundred thousand (P100 000). "Unfortunately, of the fifteen (15), we were obviously broke coming out of the elections, in fact others are still paying the debts. We have always said that in this country we need to fund democracy, we need to fund elections. So, as the opposition parties we were hard hit in the campaign costs, extremely hard hit, some have already been auctioned by the campaign itself."
"Our contributions are very slow but I am happy to say so far, we [petitioners] have contributed close to hundred and fifty thousand pula (P150 000) of the five hundred and sixty-five thousand pula (P565 000), we are each contributing forty thousand pula (P40 000) but some have contributed less than that, only one (1) have contributed the full amount of P40 000."
These bills that may sound steep are for court of appeal only, bills for the high court are still being awaited, which will add more salt to the wound. "That is just for the court of appeal. We have close to a million if not more to come from the high court bills. And we are paying not only BDP, we are also paying the IEC, because we were petitioning those two. So, the bills that we are discussing today of P565 000 are just for court of appeal for the BDP, there will be a bill for the IEC." Molotsi revealed.
Molotsi has stressed that they are in financial mess they are in today because they were fighting for democracy's efficiency and effectiveness, and unfortunately, but were dismissed on a technicality. He says if they were given an opportunity, they would have shared the evidence as front liners on what they saw "with their naked eyes" during the election day and the counting. He however said he hopes one day they will share with the nation exactly what happened in the last election.
So far, the treasurer general of the UDC, Mr. Dennis Alexander says three hundred and twenty-none thousand, five hundred and five pula (P329 505) has been raised. He says of the amount, one hundred and fifty three thousand pula (P153 000) has been paid to the BDP attorneys, eighty-one thousand pula (P81 000) was made from the vehicle auction, while they are still reconciling the other thirty-five thousand, five hundred and sixty-four pula (35 564). Currently Alexander says they have fifty-nine thousand, nine hundred and forty-nine pula (P59 949) available.