Employment
News
𝐌𝐘𝐒𝐂 𝐀𝐍𝐃 𝐒𝐓𝐀𝐓𝐈𝐒𝐓𝐈𝐂𝐒 𝐁𝐎𝐓𝐒𝐖𝐀𝐍𝐀 𝐉𝐎𝐈𝐍 𝐏𝐀𝐑𝐓𝐈𝐄𝐒 𝐅𝐎𝐑 𝐓𝐎𝐎𝐋𝐒 𝐀𝐒𝐒𝐄𝐒𝐒𝐌𝐄𝐍𝐓 𝐖𝐎𝐑𝐊𝐒𝐇𝐎𝐏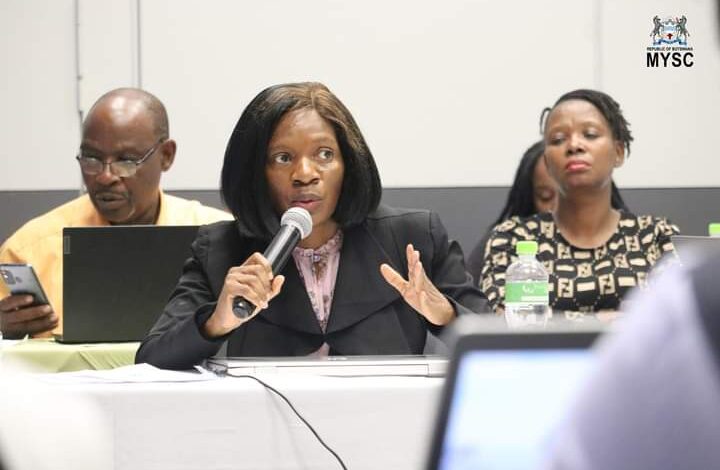 The Ministry of Youth, Gender, Sport and Culture alongside Statistics Botswana recently convened its professionals from two of its entities,Department of Youth and Department of Gender to form a two day pro tem consortia for the assessment of data collection tools for the said department.
In her welcome remarks Acting Deputy Statistician General(Statistical and Technical Operations) Ms Ketso Makhumalo outlined the objective of the event to have been to assess administrative data collection registers and forms in order to improve the information available, to monitor and evaluate programmes within the Youth, Gender, Sport and Culture among others.
The topics discussed centred mainly around gender and youth where the attendants got to debating and deliberating on different tools and variables that needed review, definition and improvement. This exercise was especially important owing the integration of gender into what is now the Ministry of Youth, Gender, Sport and Culture.
This also would facilitate the ease of information sharing between the Ministry's two daughter bodies being the departments of Youth and Gender respectively. Anchoring the discussions and deliberations were noteworthy keywords inclusive of Gender Based Violence, Youth, Sustainable Development Goals, National Development Plan and Transitional National Development Plan.
Hailing the end of the two days workshop Deputy Director- Monitoring and Evaluation for MYSC Mr Emmanuel Kabo Otukile said the occasion presented the Ministry an opportunity to reflect on what it has achieved as part of government and also as an entity on its own on the outcomes of the assessment of data tools and reflect as well on what still needs to be done going forth.