News
𝗠rs 𝗕erset 𝗟auds 𝗠rs 𝗠asisi, 𝗧he 𝗣olice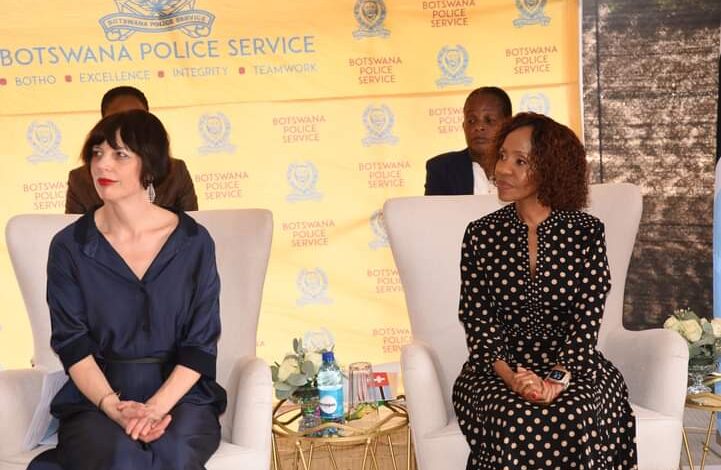 The Spouse of the President of the Swiss Confederation Mrs Muriel Zeender Berset has applauded the Botswana Police Service for making strides to combat Gender Based Violence (GBV). Speaking during a visit of the Child Friendly Centre at the Broadhurst Police Stations, Mrs Berset thanked the First Lady of Botswana, Her Excellency Mrs Neo Jane Masisi for inviting her to visit the facility to appreciate some of the work Botswana has done to protect the rights of children.
Mrs Berset praised Mrs Masisi for championing the fight against social ills such as child abuse, gender-based violence and youth and drug abuse. She further praised Mrs Masisi for imploring the Police Service to set up such a facility which accord children the opportunity to report abuse cases without fear of victimisation.
The Child Friendly Centre was piloted in 2020 as a result of the First Lady's campaign against children termed "𝗘𝘀𝗲𝗻𝗴 𝗠𝗼 𝗡𝗴𝘄𝗮𝗻𝗲𝗻𝗴" where she had called on the Police service to protect victims of child abuse. The Botswana Police has since bought on the idea and so far there are about six Child Friendly Centres across the country with more planned to be opened.
First Lady Masisi called on the Botswana Police Service to keep on updating stakeholders and members of the public on the progress achieved since the inception of the initiative. The President of the Swiss Confederation and his spouse are in Botswana for a 3 day state visit at the invitation of the President of Botswana His Excellency Dr. Mokgweetsi Eric Keabetswe Masis.