News
𝗣𝗥𝗘𝗦𝗜𝗗𝗘𝗡𝗧 𝗠𝗔𝗦𝗜𝗦𝗜 𝗥𝗘𝗖𝗘𝗜𝗩𝗘𝗦 𝗛𝗘𝗔𝗗 𝗢𝗙 𝗖𝗢𝗥𝗣𝗢𝗥𝗔𝗧𝗘 𝗖𝗢𝗨𝗡𝗖𝗜𝗟 𝗢𝗡 𝗔𝗙𝗥𝗜𝗖𝗔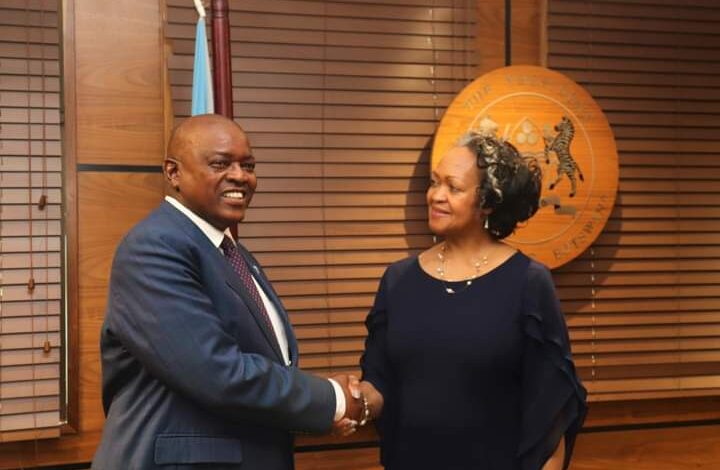 The President, His Excellency Dr Mokgweetsi Eric Keabetswe Masisi has welcomed the President and CEO of the Corporate Council on Africa (CCA) Ms. Florie Liser in Botswana during a courtesy visit at the Office of the President this morning.
The Head of CCA is in Botswana for a touch base session and dialogue with the Country's leadership ahead of the Us-Africa Business Summit that will be hosted by Botswana.
Botswana was announced as the host of the 15th US-Africa Business Summit (USABS) in June 2023 under a proposed theme of "𝗘𝗻𝗵𝗮𝗻𝗰𝗶𝗻𝗴 𝗔𝗳𝗿𝗶𝗰𝗮'𝘀 𝗩𝗮𝗹𝘂𝗲 𝗶𝗻 𝗚𝗹𝗼𝗯𝗮𝗹 𝗩𝗮𝗹𝘂𝗲 𝗖𝗵𝗮𝗶𝗻𝘀". Ms. Liser announced that a decision was made by the Council to alternate the holding of the Summit between the USA and the African Member States, adding that Botswana has emerged as this year's host. The USABS is a major platform whose aim is to strengthen U.S.-Africa trade and investment ties. The platform presents a unique opportunity to sustain a positive momentum in the U.S.-Africa engagement.
In welcoming Ms Liser, President Dr Masisi informed her that, Value Chain Development – one of the key focus areas of the Council, forms part of the Government of Botswana's top priorities in its efforts to achieve sustainable economic development. President Dr Masisi also said that Agriculture and Mining sectors remain key competitive advantages of Botswana and has sustained Batswana for ages as well as propelling the country from a low to a middle income country.
While in the Country, Ms Liser will have the opportunity to interact with several Ministries such as that of State President; Foreign Affairs; Defence and Security; Finance; Trade and Industry; Entrepreneurship; Transport and Public Works; Communications, Knowledge and Technology and Environment and Tourism.