News
1 780 Students Graduate at University of Botswana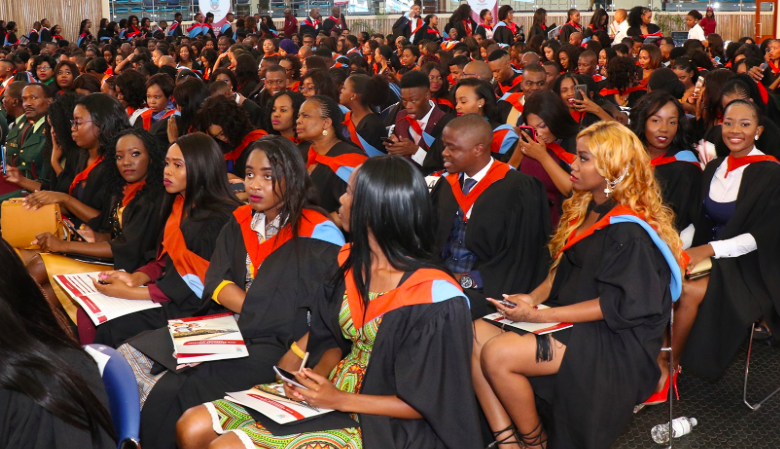 The much anticipated three-pronged 37th University of Botswana Graduation Ceremony finally got underway with the Chancellor, Ms Linah Mohohlo, today capping the first two cohorts of 1 780 graduates from the faculties of Business, Social Sciences, Education and Humanities.
The ceremony was held at the state-of-the-art Campus Indoor Sports Centre. Dozens of guests, parents and well-wishers who thronged the venue were awestruck by the magnificent set up and celebratory mood of the graduates.
Former Judge of the International Criminal Court, Justice Sanji Monageng, who was the guest speaker for the morning session of Business and Social Science faculties, encouraged the graduates to face the harsh realities of life with renewed hope.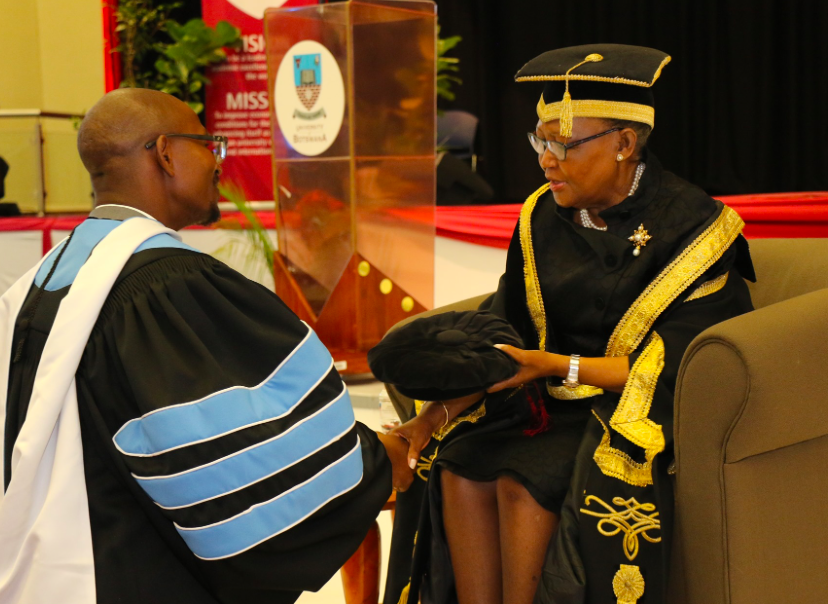 "These may seem insurmountable, but it is my firm belief that you have received an education that offers you … celestial potential that will be a catalyst for creativity that is not only personal, but is potent enough to impact on the lives of others," said justice Monageng.
For the afternoon session of the faculties Education and Humanities, the guest speaker was Dr Mothusi Phuthego, Awil College Chief executive and Co-Founder, who advised the graduates to a new world order driven by the fourth industrial revolution.
Dr Phuthego's message was in line with the theme of this year's graduation ceremony – Education for Economic Diversification: Towards the Fourth Industrial Revolution- and he impressed upon the graduates to take advantage of the opportunities brought about by technology to better their lives and develop the country.
The last batch of 544 students from the faculties of Science, Medicine, Health Sciences, Engineering and Technology graduates tomorrow morning. The guest speaker is Professor Sesae Mpuchane, a former Head of the Department of Biological Sciences and Dean of the Faculty of Science at the University of Botswana.
A number of dignitaries among them His Excellency, the President of the Republic of Botswana, Dr Mokgweetsi Masisi, Cabinet Ministers, members of Diplomatic Corps, captains of industry and some prominent members of the public will grace tomorrow's event.
It is the first time that the University of Botswana, which was established in 1982, held its graduation ceremony indoors. For the past 37 graduation ceremonies have been held outdoors including the National Stadium and lately UB Stadium.
Overall, the University will this year see a record 24 graduates conferred PhDs, 350 MPhil, Masters and Post Graduate Diplomas, 1 821 Degrees and 259 Diplomas.
For the second year running the University has conferred the honour of valedictorian to a graduate from the islands of the Seychelles. Ms Tania Innocente Bellard, a native of Praslin Island, the second largest Island of the Seychelles archipelago, is this year's valedictorian.
Tania boasts a rich background of hard work and discipline interspersed with unparalleled brilliance and academic prowess which won her accolades and sponsorships.