Entertainment
Bongile Mantsai on playing Hlengu – his "complete opposite" – in Blood Psalms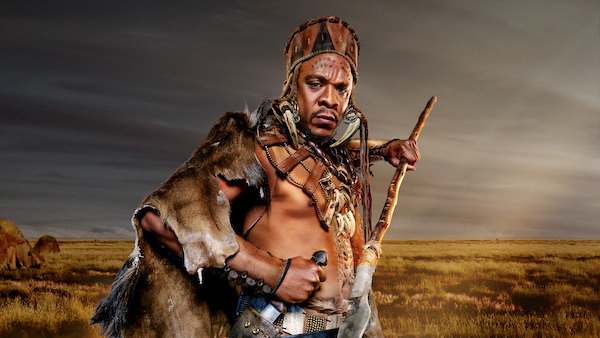 In Blood Psalms, the epic Showmax Original African fantasy launching on Wednesday, 28 September 2022, Bongile Mantsai stars as Hlengu, the second-born son of the chief of the Ku'ua, a nomadic tribe of wandering warriors.
Blood Psalms marks Mantsai's third collaboration with director Jahmil X.T. Qubeka after the South African Oscar entries Knuckle City and Sew The Winter To My Skin. Mantsai won Best Actor at both the SAFTAs and Durban International Film Festival as ageing boxer Dudu Nyakama in Knuckle City, which also earned him an African Movie Academy Award nomination. Mantsai also has SAFTAs for his performances as Vija in the Oscar-shortlisted The Wound (Inxeba) and Mthunzi on Scandal!.
In Blood Psalms, the likes of the Akachi and Great Nziwemabwe look down on the Ku'ua for their simple existence. Hlengu longs to return his tribe to their former warrior glory. Although his father, jolly chief Xemantso (Vusi Thanda from The Queen), made peace with the Akachi, Hlengu believes war is the only way. First, though, he'll have to find a way to inherit the throne ahead of his level-headed brother, Qotha (two-time SAFTA winner Hamilton Dlamini from Five Fingers For Marseilles). But Qotha's wife, Lala (Soso Rungqu from Isidingo, Generations: The Legacy, Tjovitjo), is determined to be queen – whatever it takes.
Other key Ku'ua characters include Kuthala (SAFTA winner Thishiwe Ziqubu from Tell Me Sweet Something and Hard To Get), the tribe's fiercest warrior, and Toka (SAFTA winner Zolisa Xaluva from Gomora), who has turned his back on the Ku'ua to become general of the Akachi army.
Blood Psalms producer Layla Swart says the Ku'ua are the forefathers of the Nguni tribes. They're easy to identify in Blood Psalms. "The Ku'ua Kingdom is pretty much a leather and skin kingdom," says SAFTA-winning costume designer Pierre Vienings (Five Fingers For Marseilles). "Their great warriors are bare-chested. We want to show their scarification and their physique, so you understand that these are the great warriors that travel the plains of Africa."
We caught up with Mantsai to find out more about his role in the biggest and most ambitious series Showmax has ever made:
What has been the most challenging part about portraying Hlengu?
He is a true warrior; he believes in war and fighting. He is constantly defending himself and is always ready to fight. He is very barbaric and intimidating.
Whereas on the other hand, I'm naturally a soft and reserved guy – the complete opposite of who Hlengu is. So portraying Hlengu was a fun challenge. I thoroughly enjoyed pushing my limits to bring this character to life.
Are there any parts of Hlengu you see in yourself?
Hlengu is a very family-oriented man. He is extremely protective over his family and loves them dearly. He may have a tough exterior and hardly shows affection, but his priority is always his family and his people. We are similar in that way; I'm a family man and very close to my loved ones.
You've worked with Jahmil on projects like Sew The Winter To My Skin and Knuckle City and now on Blood Psalms. What do you think makes you gel so well creatively?
Jahmil is a great director; he constantly challenges me to push the boundaries.
We know each other so well; we have built a strong understanding and trust. He helps in making sure that every character I play is different from the previous characters I've played in his projects.
There is also a mutual respect that has grown over the years between us and I appreciate that we can be open and honest with each other.
I also appreciate how Jahmil is able to explain his vision so vividly yet at the same time offer a safe space for me to become the character he's envisioned.
Talk us through your prep for this role.
Jahmil took me through the character's family traits, motivations and flaws. He really got into the background of the tribe and how they fit into the world of Blood Psalms. Jahmil intricately fleshed out each character and that helped me a great deal in getting into character. It was the first time I got so much assistance with preparing for a role.
We also did a lot of physical training, including boxing and rigorous boot camp sessions, to get into shape. I thoroughly enjoyed that; it was so much fun! The physical training helped a lot when it came to fully immersing myself into the character.
What do you think viewers will appreciate about this production?
The attention to detail throughout the entire production, from the sets to costume and makeup.
The storyline is strong, the ensemble cast is brilliant, and there is a cast member or character for everyone to love.
Overall, Blood Psalms is going to change the South African streaming landscape and viewers will appreciate the quality of the work.
Premiering on Showmax on 28 September
Shot in the Eastern Cape, Gauteng and North West provinces, Blood Psalms is a Showmax Original in partnership with CANAL+, the Department of Trade, Industry and Competition, the Eastern Cape Economic Development Corporation (ECDC), the National Film and Video Foundation (NFVF) and the MultiChoice Innovation Fund, which supports South Africa's most exciting entrepreneurs, enabling them to bring their unique, innovative and creative business ideas to life.
The first two episodes of Blood Psalms will premiere on Showmax on 28 September 2022, with new episodes every Wednesday until the end of November 2022.