News
Botswana-Based Scientist Presented Award By The German Chancellor For The Discovery Of The Omnicrom Variant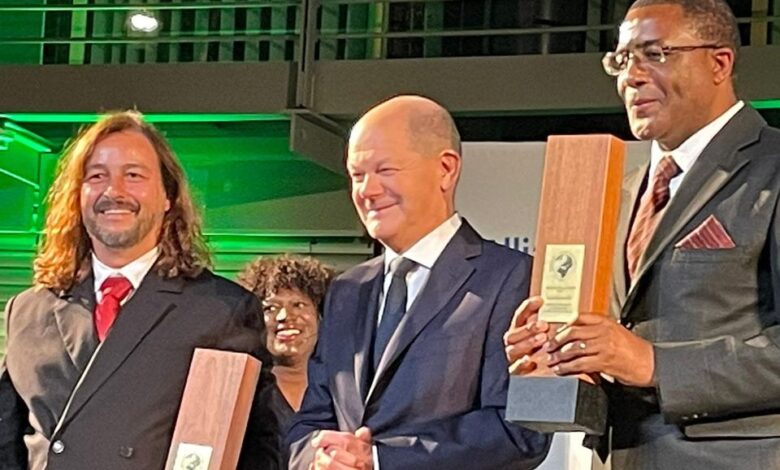 The Ministry of Foreign Affairs wishes to inform the public that on 25th November 2022, Botswana was recognised for her outstanding achievement in the field of science and research, through the German Africa Award given to the Botswana based virologist, Dr. Sikhulile Moyo, Laboratory Director at the Botswana-Havard AIDS Institute Partnership (BHP) and South Africa based Bioinformatician, Professor Tulio de Oliveira. The two scientists received the award from the German Africa Foundation, for their discovery of the Omicron Variant of the coronavirus and reporting it to the World Health Organisation (WHO). The award was presented by the German Chancellor, His Excellency Mr. Olaf Scholz at a ceremony that was held in Berlin, Germany.
This is the third time Botswana has been availed this prestigious award. The Late Former President of Botswana, His Excellency Sir Ketumile Masire and Mr. Segolame Ramothwa, Former Head of MASA National Anti-retroviral Therapy Programme, received the same award in 1998 and 2006 respectively. The winners of the award, are selected annually by an independent twenty-member jury.
The German Africa Foundation is a non-partisan political foundation committed to the successful implementation of the German Federal Government's Africa policy guidelines. One of its responsibilities is to convey a positive image of Africa in the political arena and to the German public. Since 1993 the Foundation has been honouring outstanding personalities from Africa who have contributed to fields of democracy, peace, human rights, sustainable development, research, art and culture or social issues on the Continent.