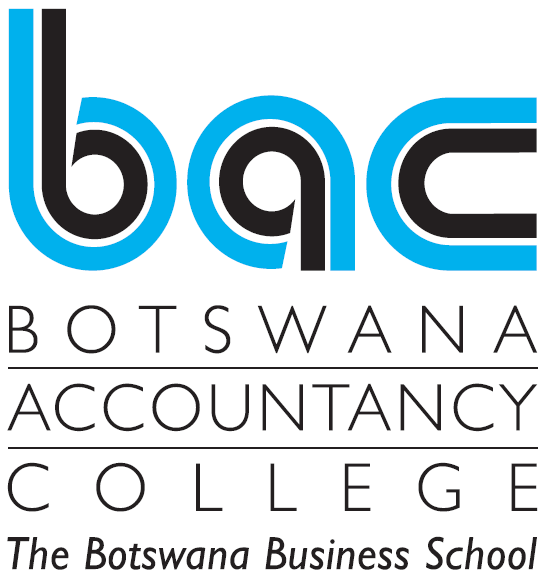 Computing Lecturer (Three Year Fixed term Contract)
Closing Date:
Friday, 23 November, 2018
Job Category:
Education and Training
Job Location:
Gaborone
Botswana Accountancy College (BAC) is a premium institution with all the hallmarks of a supreme learning environment characterised by an international footprint, BAC is a highly focused business school which is continously forging relations with renowned international partners i.e. universities and global professional bodies. As a learning institute driven by the passion to excel, we are recognised for the quaity of our programmes and their relevance to the needs of the economy. We subscribe fully to the growth of Botswana's human capital development agenda and are a key player in the national human resources development and skills capacity building programme. Our vision is anchored on excellence in knwoledge production so if you are a professional of distinction, you need to be part of the best of the breed in the knowledge industry.
Key Perfomance Areas
Student Retention
Academic Assessment
Lecturing and teaching
Learning and teaching management
Customer focus
Subject matter expertise
Academic program development and review
Test development and analysis
Minimum Education or Qualifications:
Masters degree in Computer Science/Engineering systems
PGCE (Postgraduate Certificate of Education) or other teaching quaifications
Membership of a relevant professional body
BQA accreditation (or accreditation from a recognised qualification authority)
Competencies:
Lecturing and teaching
Student retention
Research quality, ethics and integrity
Academic governance and leadership
Academic program development and review
Academic assesment
Programme development and coordiantion
Test development and analysis
Subject matter expertise
Technical expertise
Innovation
Networking and partnering
Execution and delivery
Customer focus
Key Skills and Experience:
At least four years post qualification experience in educational planning and management, two of which should have been teaching at a junior lecturer level within a higher education institution.
Application Instructions:
All applications with accompanying cover letter and detailed curriculim vitae should be e-mailed to recruitment@bac.co.bw.
The application should be addressed to Head of Human Resources Botswana Accountancy College, P/Bag 00319, Gaborone.
Only shortlisted candidates will be contacted.
Company:
Botswana Accountancy College