News
Trending
"Dismissal of Segomotso Mhaladi illegal" -UDC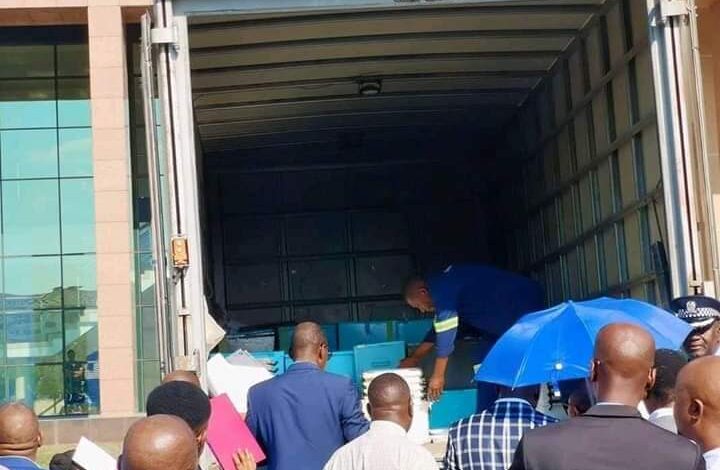 The Umbrella for Democratic Change (UDC) has condemned the dismissal from work of Ms. Segomotso Mhaladi. The lady was an employee of the Ghanzi District Commissioner's office.
"The UDC considers the dismissal of Ms Mhaladi to be illegal and uncalled for. It undermines the whistle blowing policy and it is endeavour to fight the endemic corruption and maladministration in Botswana. We are seriously concerned by these developments that are intended to malign and humiliate the workers of this country. As a party that strongly support the workers' agenda, the UDC stands with the workers where there is flagrant abuse of their rights such as is the case with the dismissal of Ms Mhaladi. Ms Mhaladi should be unconditionally reinstated to her job without any delay." the UDC condemned.
Ms. Mhaladi was dismissed from work on the 3rd of June 2021. On the dismissal letter it was indicated that the employee was charged and found guilty of "willful disclosure of confidential information where such disclosure has not been authorized by the Government or pursuant to any law or court order or is likely to be detrimental to the interests of the employer". According to the office of the Ghanzi District Commissioner, this constitutes to serious misconduct under Section 27 (3) (i) of the Public Service act No.30 of 2008.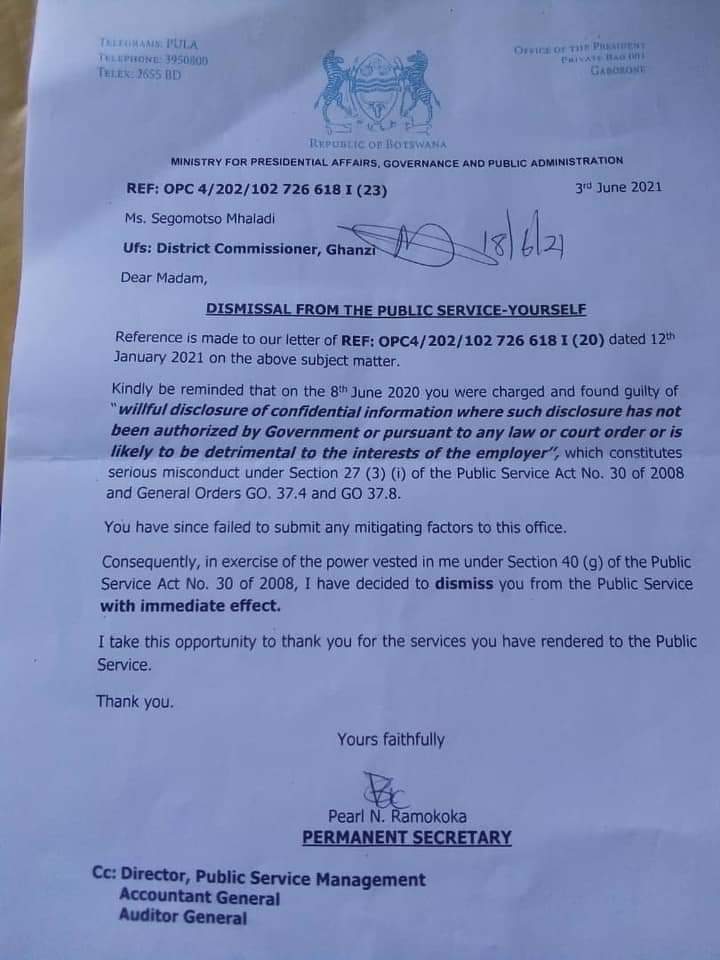 The UDC is of the view that the "charge brought against Ms Mhaladi of leaking confidential information is frivolous, as there is no manner of confidential government information that could be deposited and stored in a toilet." The UDC further holds that it was "not anomalous for Ms Mhaladi to report this discovery in a toilet and that report should not constitute misconduct of any form. Ms Mhaladi was not on any witch hunt but on her daily cleaning routine and is baffling how that will constitute misconduct on her part."
Ms Mhaladi is the lady who raised alarm on seeing used ballot papers for Ghanzi North Constituency in a toilet immediately following the 2019 General Elections.