Features
Eddie Hall Has Been Crowned The World's Strongest Man 2017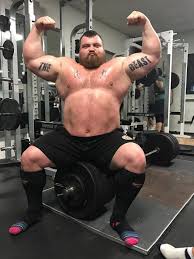 Hall, nicknamed The Beast has made history by winning the contest in Gaborone
The 31-stone strongman vowed to win the title even if it killed him.
The qualifying round for the contest took place between May 20 and 23, followed by the Grand Final on Saturday and Sunday.
Thirty strongmen competed for the 10 places in the final.
Hall revealed how maintaining his massive weight puts a huge strain on his body and means he cannot fit into cars or chairs.
Eddie, whose hero is bodybuilder-turned-actor Arnold Schwarzenegger, says: "That's when the journey began and he had this fascination of sculpting his body like Arnie.
"I became the strongest in my gym, then I realised I was the strongest in the area, then the Midlands."
He was crowned England's strongest man at 21, Britain's best at 23 and finished sixth at his first World's Strongest Man in 2014.