News
Trending
"Every leader needs a right hand man" – Magang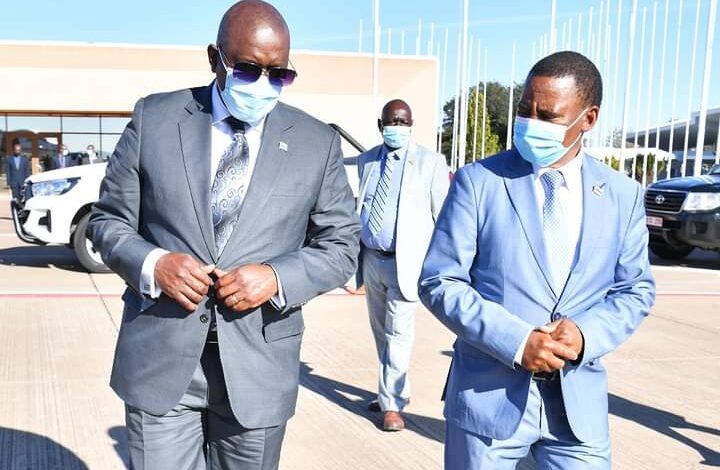 While many were surprised by His Excellency the President Dr. Mokgweetsi E.K Masisi's choice of a Vice President when he ascended to power in 2018, Lesang Magang says the move was fully justified.
Full of praises for His Honor the Vice President, Slumber Tsogwane, Magang is of the view that as a veteran, Tsogwane is an embodiment of stability. "HE IS AN ELDER AND HE GUARANTEES STABILITY, not only for the President but for the mammoth institution that is the Botswana Democratic Party." he commended.
According to Magang, the relationship between President Masisi and his Vice, Tsogwane, is an example of how the party leadership on the lower structures should be; starting from cell level up to constituency level.
"I have keenly observed the growing bond between these two leaders. In character one would argue they are poles apart. In vision and resolve they are two peas in a pod. These two Leaders demonstrate the partnerships we should forster between Chairperson and Secretary at Branch, Ward or even Cell level. They demonstrate the symbiotic relationships necessary between Members of Parliament and their Councillors. Gore it's not about us, but ITS ALL ABOUT BA BA RE ROMILENG, EBONG BATSWANA KA SEBELE. [THOSE WHO ELECTED US,BEING BATSWANA]." he observed.
Magang's opinions about the relationship between the two leaders comes after there has been rumours that President Masisi is planning to remove Vice President from his position in the run up to 2024 elections. It has been recently reported in the local newspapers that Peggy O. Serame is the preferred candidate. Currently Serame is a specially elected Member of Parliament, and it is believed that she will contest at Goodhope/Mabule constituency which is currently represented by Eric Molale. Molale is rumoured to be exiting active politics to pave way for Serame who is also rumoured to be President Masisi's nephew (daughter to the late Tshelang Masisi).
It is not clear whether His Honor the Vice President Tsogwane will be contesting in 2024 or not. He might face the former Minister of Investment, Trade and Industry Bogolo Kenewendo if he decides to contest. Kenewendo might contest under BPF ticket according to reports.