Entertainment
From The Real Housewives of Lagos to Waiting for Goldman: African gems to stream on Showmax now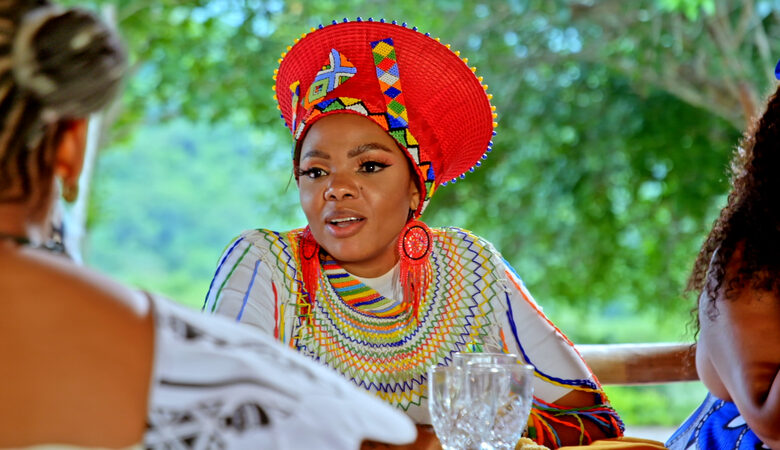 THE REAL HOUSEWIVES OF LAGOS S1 | Stream ep 1 now, with new episodes every Friday
The Real Housewives of Lagos trended at #1 on Twitter in both Nigeria and South Africa on the weekend, setting a new record for the most first-day views on Showmax in Nigeria.

The latest edition of the hit reality TV show franchise follows the opulent lives of six of the most glamorous women in Africa's largest megacity: businesswoman Carolyna Hutchings, lawyer and luxury hair brand owner Chioma Ikokwu, Nollywood actress Iyabo Ojo, influencer Laura Ikeji-Kanu, PR expert Mariam Timmer, and celebrity stylist Toyin Lawani-Adebayo. In true Lagos style, they will be serving up all the high fashion, luxury, drama, and power-moves that the franchise is known and loved for globally.
In this week's episode of RHOLagos, Chioma and Carolyna discuss what they really think of Laura. Iyabo ships her new circle of friends off for a beach house getaway, and the ladies play a very spicy game with some shocking revelations!

NEED MORE REALITY TV?• The Real Housewives of Durban's
Season 2 finale is tomorrow, 15 April 2022, with the reunion scheduled for 6 and 13 May 2022. The finale teaser shows Jojo throwing her drink at Mabusi, and LaConco still being interrogated about Petal, so the drama is far from over…• S5 of the SAFTA-winning
Living The Dream With Somizi launches on Showmax on 4 May 2022, with new episodes coming every Wednesday. And yes, the trailer includes Lorcia Cooper asking Somizi if he hit Mohale…• Banijay (Big Brother, MasterChef, Survivor and more) has acquired the exclusive format rights internationally to Rebelintown's Still Got It!, which sees older people aged 60-80 competing in a series of fun and unexpected challenges with the help of the Gen Z crowd. The original South African edition, The Coolest OGs, is available to binge on Showmax.• The polygamy-themed Mnakwethu: Happily Ever After S2 is now available to binge after its Twitter-trending run on Mzansi Magic, with Musa Mseleku guiding viewers through family rejection, a love child and unexpected break-ups this season….
WAITING FOR GOLDMAN | Stream now
Mikey and Clinton have been assigned to kill financial broker Ivan Goldman. The only problem is, they're not sure what he looks like…
Winner of four international awards, Waiting for Goldman is written and directed by double SAFTA winner Ari Kruger, who co-created Tali's Wedding Diary and its sequel Tali's Baby Diary,as well as SuzelleDIY. His previous hitman-centred short film, Jakkals13, was a Vimeo Staff Pick.
SAFTA nominees David Isaacs (Hotel, Dwaalster) and De Klerk Oelofse (Hotel, Kanarie) star as the hapless hitmen.

NEED MORE LAUGHS?• Showmax has just released the trailer for Season 2 of Troukoors (Wedding Fever), which will be available to binge from Thursday, 5 May 2022. The hit romcom follows three best friends: wedding planner Jessica (Ilse-Lee van Niekerk); her sister Luca (Blyde Smit), a software developer; and her best friend Abi (Bianca Flanders), a professional baker. • The fifth and final season of the hilarious Afrikaans mockumentary Hotel takes us back to the motley crew of small-town misfits at the Fransen Hotel, still standing despite crises and mismanagement, takeovers and interpersonal conflicts, and even a pandemic. As Ferdie, James Borthwick won his second SAFTA for Best Actor in a TV Comedy last year, while Martelize Kolver was named Best Supporting Actress.
UMKHOKHA | Binge now
The Mzansi Magic drama Umkhoka follows the bitter feud between two families vying for control of a church after the untimely death of its leader.
Deli Malinga, nominated as Favourite Actress at the 2022 DStv Mzansi Viewers' Choice Awards, stars as the formidable MaMzobe, a woman determined to hang on to her family's legacy at any cost. Avanti Award winner S'Thandiwe Kgoroge (Lithapo, Impilo: The Scam, Yizo Yizo) co-stars as MaNzimande, along with triple SAFTA winner Linda Sokhulu (Still Breathing, Sokhulu and Partners II), Nay Maps (Blessers, Uzalo, Isibaya), Sibongile Ngubane (Uzalo, Isibaya), Kwezi Ndlovu (Housekeepers, The Herd, Isithembiso), Mondli Makhoba (Nkosana in The Wife) and Hope Mbhele (No Love Lost), who is up for Favourite Rising Star at the 2022 DStv Mzansi Viewers' Choice Awards.
In his best of 2021 roundup, IOL's Buhle Mbonambi named Umkhokha "one of the best dramas to come out of SA in a long time… an intriguing must watch… It is the writing and performances, especially by Deli Malinga, Sthandiwe Kgoroge and Nay Maps, that have made Umkhokha one of the most exciting dramas of the year."

NEED MORE LOCAL DRAMA?• S2 of The Wife ends on Showmax on 5 May 2022, after its cast just scooped four DStv Mzansi Viewers' Choice Awards nominations: Rising Star (Kwenzo Ngcobo), Favourite Actor (Abdul Khoza, Bonko Khoza), and Favourite Actress (Zikhona Sodlaka). In this week's episodes, we get our first glimpse of Gaisang K Noge as Naledi, while the Majola brothers get more than they bargained on when they kidnap a very pregnant Hlomu… Advance warning that The Wife will be going on a production break after the 5 May 2022 finale and is only returning in late 2022.• 1Magic's heart-stopping medical drama Wounds centers on Busisiwe (Samke Makhoba from MTV Shuga), a new intern who is understandably nervous – but for reasons that have more to do with the past she is running away from than the challenges that lie ahead of her as a nurse.
LAST BLUE RIDE | Stream now
True crime documentary Last Blue Ride recounts the 11-hour hell-ride of Stellenbosch students Hannah Cornelius and Cheslin Marsh in 2017. While Marsh survived a near-fatal assault, Cornelius was brutally murdered – age 21. The case made international headlines. Alongside an interview with Marsh, Last Blue Ride features CCTV footage from the night alongside a recreation of that hell-ride, narrated by director and journalist Anthony Molyneaux. There's also footage from Cornelius' funeral and the subsequent court case, where it is revealed that the attackers were members of the notorious prison gang called the Numbers. "As a crime journalist, I cover dozens of brutal crimes and their resulting court cases," says Molyneaux. "However, Hannah's murder affected me more than the others. South Africans seemed to be touched by the events too, as millions followed the case. But Hannah's life would shine through the morbid details, and reveal a smart, strong young woman who was loved by many. The film intends to honour her memory and highlight the difficulties rehabilitating criminals inside South African prisons."
NEED MORE NON-FICTION?• Sex in Afrikaans set a new record for the most first-day views of any Afrikaans title on Showmax ever, ahead of Devilsdorp, earning five star reviews from the likes of Channel24, withYOU Magazine calling it "the show everyone is talking about… a runaway hit."
WELCOME TO THE FAMILY | Stream now, first on Showmax
The romcom Welcome to the Family centres on Palesa, who has barely said "yes" to her boyfriend's marriage proposal when she finds herself dragged along to his family home in KZN, where she discovers that she is about to marry into an over-the-top, wealthy family led by two overbearing, controlling and hard-to-please monster-in-laws.
Written by Nandisa Mkize (Umakoti Wethu) and directed by Nthabiseng Tau (Isidingo director and Muvhango's Meiki)​​, Welcome to the Family stars Nolo Seabi (Isithembiso, Scandal!), Siphesihle Vazi (Selimathunzi), triple SAFTA winner Linda Sebezo (Lockdown), Deli Malinga (Umkhokha, The Queen), Zakhele Msibi (Isibaya), and Bongiwe Ngidi (Saints and Sinners).
In their five star review, The Daily Sun says the comedy "will have you laughing until you fall."