News
Korean Embassy Donates Sanitary Pads To The Ministry of Basic Education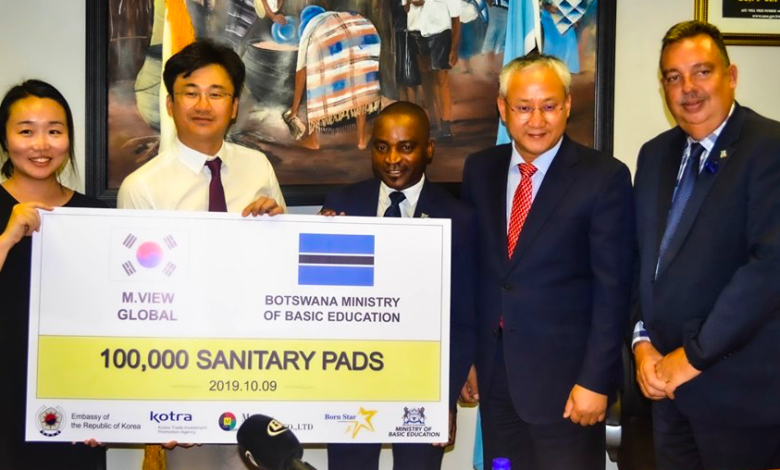 The Embassy of the Republic Korea in collaboration with M. View Global Business from Republic of Korea represented by Chief Executive Officer, Mr. Dong Wook Kim donated 100 000 packets of sanitary pads to the Ministry of Basic Education. Last year, M. View Global Business donated 50 000 sanitary pads to the Ministry. The Donation was handed by Mr. Yeong-ho Lee, the counsellor of the Embassy of the Republic of Korea and it was well received by the Minister of Basic Education, Honourable Bagalatia Arone.
In his remarks the CEO, Mr Kim stressed that his company will keep on donating more sanitary pads to the government of Botswana.
The Minister Bagalatia Arone thanked the Ministry of International Affairs and Cooperation led by the Acting Director of the Department of Asia and the Pacific, Ms. Emolemo Morake for securing partnership that impact on the lives of the people of Botswana. He thanked the Embassy of the Republic of Korea and M. View Global on the donation they made to his Ministry.
In her remarks Ms. Emolemo Morale stressed that Botswana view Republic of Korea as a strategic partner with whom will continue to work with in the interest of building stronger relations.
She said the assistance from Republic of Korea has been very substantial over the years and that covers among others areas such as ICT and Capacity building.