News
MORWAENG COMMEND COMPANIES AND INDIVIDUALS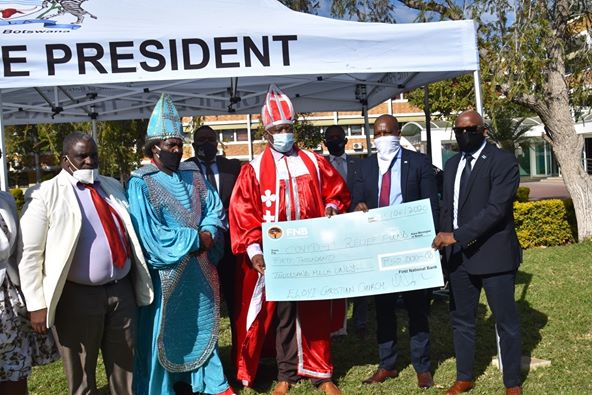 Companies and individuals who continue to donate towards the Covid-19 relief have been commended for their values of Botho, Kagisano and Boipelego. The commendation was made by the Minister for Presidential Affairs, Governance and Public Administration Kabo Morwaeng when receiving donations at the Office of the President earlier today.
Morwaeng said these values are the ones on which the nation of Botswana was founded. His hope he added, is for the coming generations to continue with the same compassionate spirit. Morwaeng said by donating to this cause, companies and individuals become part of the solutions implementation. He also expressed regret for those who allegedly use donations and government's wage subsidy for unintended purposes. Morwaeng called on those with information on such allegation to make formal reports assuring that government will investigate and take necessary actions such people.
A total of P936, 815.87 cash and goods worth P1 000,000.00 in-kind were donated by 10 entities.
These are Molefi Senior Secondary School Class of 1990 P15, 000.00, De Vre Trans P200 000.00, GetBucks P100, 000.00, Moeding College Alumni P20 000.00, Puma Energy Employees P241, 815.87, Eloyi Christian Church P50 000.00, Alexander Forbes P200, 000.00, Parts Sales Botswana P100,000.00, Balete P10, 000.00 and Botswana Institute for Technology Research and innovation (BITRI) sanitisers worth P1 000,000.00.