News
MOSHANA POLICE POST OFFICIALLY OPENS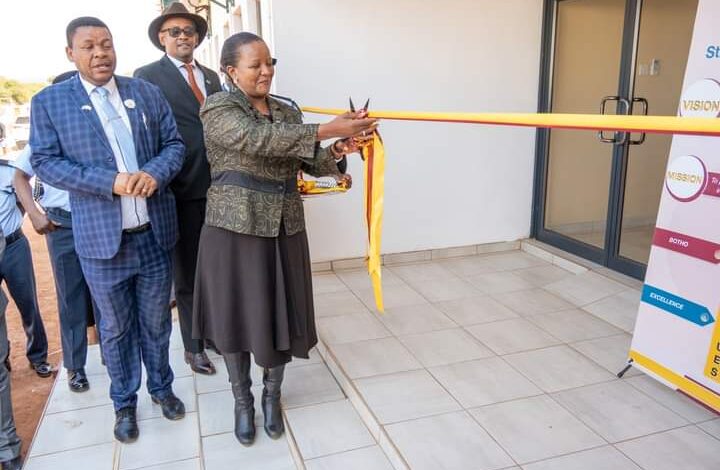 The Permanent Secretary in the Ministry of Defence and Security, Ms Botlhale Makgekgenene said the Government of Botswana is committed to continuously resourcing and modernising Botswana Police Service for effective delivery of their mandate.
When officially opening Moshana Police Post yesterday (20/04/2023), she said that the Ministry continue to invest in policing infrastructure and facility development as well as implementing the latest technology to improve service delivery.
Ms Makgekgenene stated that in an effort to ensure equitable distribution of services, the Government has successfully constructed and delivered 28 Police Posts to communities nationally with other seven projects still under construction and expected to be completed before the end of 2023.She also noted that Government has further approved 28 new Police Stations for construction during the Transitional National Development Plan (2023/2024 and 2024/2025) Financial years.
The Permanent Secretary said that the project was necessary as it will address the security challenges confronting the area. She said with additional office space, officers will no longer operate in a congested environment, and as such private interviews that observe confidentiality will be possible.
Ms Makgekgenene concluded by encouraging the local community to take advantage of such infrastructural development and report all forms of crime. She also thanked all the stakeholders who contributed to construction of the Police Post.
In his remarks, Kgosi Kwelagobe Mookodi expressed gratitude to all stakeholders who contributed towads the construction of the project. He said that the facility will promote peace and tranquility in their village which will also attract investors. He added that the community will utilise the facility by partnering with the police in the fight against crime.
For his part, the Commissioner of Police, Mr Phemelo Ramakorwane said he will engage the relevant authorities with a view to finding a suitable area to build residential accommodation for the officers.
The project was constructed at a cost over P970,000.00.