News
Orapa South Gate To Contribute To Economic Empowerment And Clean Environment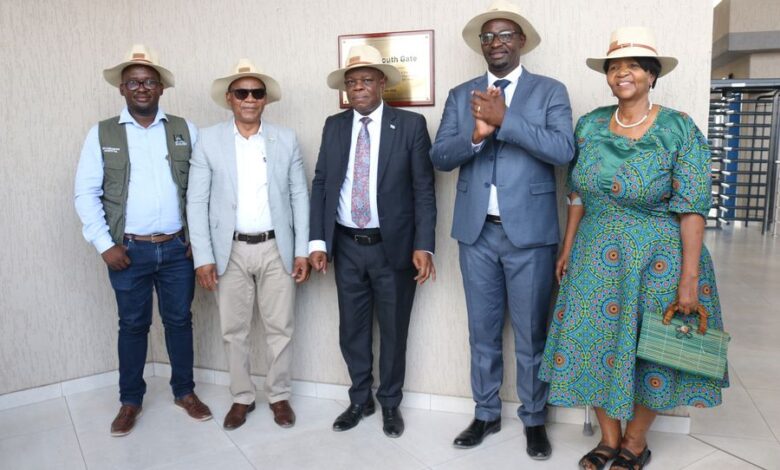 The Orapa South Gate which is fully powered by solar panels has a local face, this being a contribution to the Citizen Economic Empowerment Initiative as well as clean environment. The gate was built by a combination of four local companies namely WRAGG Construction, EH Construction (PTY) LTD, Grit-Tech (PTY) LTD and T-valve. The Vice President Mr. Slumber Tsogwane noted when officially opening the new gate yesterday.
The Vice President said, job creation remains top priority that requires both the Government and the private sector to play active roles to deliver on. "It is therefore pleasing to learn that the project that took 22 months to complete created jobs for a total of 187 people", His Honour said.
Moreover, He noted that the facility is the first of its kind in Orapa, Letlhakane and Damtshaa mines operations to be fully powered by solar with 234 solar panels mounted on the roof of the canopy, making an output of 93kw.
The Vice President said climate change is a major concern and a real threat to mankind and needs collective efforts to manage the risks and uncertainties posed by it. He said initiatives likes these are aligned to the Botswana Government's vision to be a society that pursues sustainable and climate resilient models, a nation geared towards environmental protection and reduction of greenhouse gases from the atmosphere in pursuit of prosperity for all.
The General Manager of Orapa, Letlhakane and Damtshaa Mines Mr. Mogakolodi Maoketsa said, they have a responsibility to protect the world as there is an increased global call for government, companies and individuals to use clean energy systems and contribute to endeavors to combat climate change and greenhouse emissions. It is for this reason that the organization continues to find ways of achieving clean ways of operation. Mr Maoketsa said.
The Assistant Minister of Health Hon. Sethomo Lelatisitswe was among those who graced the event and in his closing remarks, he implored Debswana to continue making a difference and develop lives of residents of areas they operate in.
The building has showers and rest rooms where truck drivers would be able to refresh and also has kiosk where one could buy a few things they may need.