Entertainment
"People think that desire stops at 40; it does not." Winnie Ntshaba on Adulting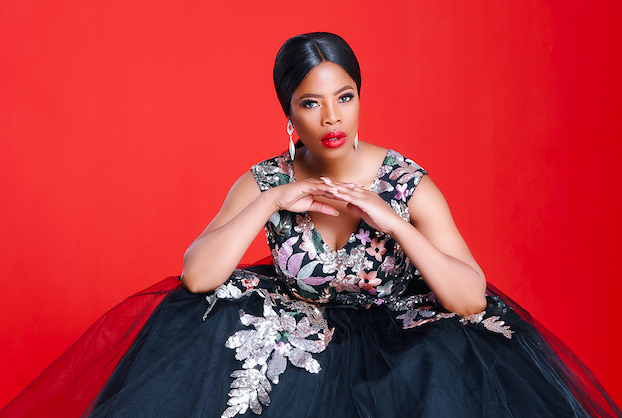 When fans think of Winnie Ntshaba, many things come to mind. The actress and businesswoman has been in the entertainment industry for more than two decades. Over the years, she has graced our screens with unforgettable performances, including the rags-to-riches story of Khethiwe Buthelezi onGenerations, which earned her a SAFTA nomination; Zodwa, the devious mother on The River; and the controversial Faith on House of Zwide. But it is her role on the hit Showmax Original Adulting that everyone is talking about right now.
Now available to binge, Adulting follows four varsity friends – Bonga (Thembinkosi Mthembu), Vuyani (Luthando BU Mthembu), Eric (Nhlanhla Kunene) and Mpho (Thabiso Rammusi). Their strong bond has held them together even as their journeys in life have taken them in very different directions. As they try to find love and success in Johannesburg after university, they turn to each other for support.
Winnie plays Beth, Vuyani's sugar mama and the fictional MEC for the Arts in Gauteng. "Beth is very different from the other characters I have played," says Winnie. "When I read the script, I immediately knew that this is a role I wanted to take on. It is very important for black women to see other black women in positions of power. We are often reduced to just the help or the sidekick, so this role spoke to me because of Beth's power."
Not that Beth always uses her power for good. "Beth is a very toxic woman," admits Winnie. "Seeing how she treats Vuyani has been very hard. In most stories, it is usually a rich man that is abusive to his younger lover but, in Adulting, the writers switched it up and placed the woman in the position of power, and showed that men can also fall into the trap of being abused by someone who is powerful."
Despite this, Winnie says she can still see the good in Beth. "There are a lot of things that I do not like about Beth but one thing I admire is how she is not afraid to go after what she wants, whether it is business or her sexual desires. I respect that, as a woman, she is not afraid to go for everything she wants. Most people count out women when they reach a certain age, so having a middle-aged woman on screen who enjoys sex and wants it is very important. People think that desire stops at 40; it does not. So I am glad that people are now seeing a different side to women to what is already out there in the media."
Speaking of her trending 18SN sex scenes, she says, "Doing the sex scenes was not bad at all; Showmax and Tshedza Pictures made sure that everything was above board. There was an intimacy coach and they made sure that we were all comfortable. BU is a gentleman and he made me feel at ease. Every time we would have to do a sex scene, we would always joke around about how his first sex scenes are with a legend in the game."
Adulting's eighth and final episode dropped yesterday, with the show again at #1 on the Showmax charts. "Everywhere I go, people have been stopping me to tell me how they have been enjoying seeing me play Beth," says Winnie. "Most are stunned by how risqué she is but overall it is all love and I am honoured. As an actress, I love seeing people dissect my characters and have educational conversations around them."
Adulting is the first of two Showmax Originals from Tshedza Pictures, the production company behind the International Emmy-nominated telenovela The River and the SAFTA Best TV Drama winner The Republic. Tshedza Pictures' co-founders Phathu Makwarela and Gwydion Beynon have won five Best Scriptwriting SAFTAs in the last four years.
Tshedza's second Showmax Original, Outlaws, is a cross-cultural love story of epic proportions, which plays out in the dangerous world of cattle theft syndicates, in the lawless land on the border between Lesotho and KwaZulu-Natal. Outlaws is expected to premiere first on Showmax in the second half of 2023.
Watch the Adulting trailer: https://youtu.be/1dD4rLxuPrM
Add Adulting to your Showmax watchlist:
https://www.showmax.com/eng/tvseries/g3h6nfpu-adulting