News
PRESS RELEASE – HIS EXCELLENCY THE PRESIDENT TO PARTICIPATE AT THE EXTRAORDINARY SUMMIT OF THE TROIKA OF THE SADC ORGAN ON POLITICS, DEFENCE AND SECURITY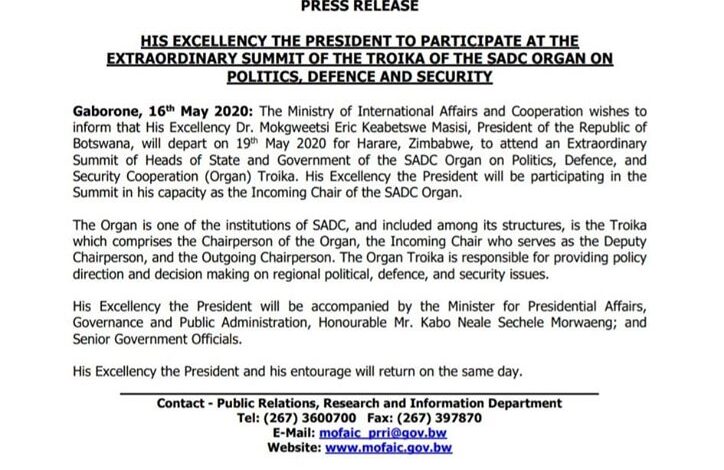 Gaborone, 16th May 2020: The Ministry of International Affairs and Cooperation wishes to inform that His Excellency Dr. Mokgweetsi Eric Keabetswe Masisi, President of the Republic of Botswana, will depart on 19th May 2020 for Harare, Zimbabwe, to attend an Extraordinary Summit of Heads of State and Government of the SADC Organ on Politics, Defence, and Security Cooperation (Organ) Troika. His Excellency the President will be participating in the Summit in his capacity as the Incoming Chair of the SADC Organ.
The Organ is one of the institutions of SADC, and included among its structures, is the Troika which comprises the Chairperson of the Organ, the Incoming Chair who serves as the Deputy Chairperson, and the Outgoing Chairperson. The Organ Troika is responsible for providing policy direction and decision making on regional political, defence, and security issues.
His Excellency the President will be accompanied by the Minister for Presidential Affairs, Governance and Public Administration, Honourable Mr. Kabo Neale Sechele Morwaeng; and Senior Government Officials.
His Excellency the President and his entourage will return on the same day. _______________________________________________ Contact – Public Relations, Research and Information Department Tel: (267) 3600700 Fax: (267) 397870 E-Mail: mofaic_prri@gov.bw Website: www.mofaic.gov.bw