News
Promote Dikhwaere – Morwaeng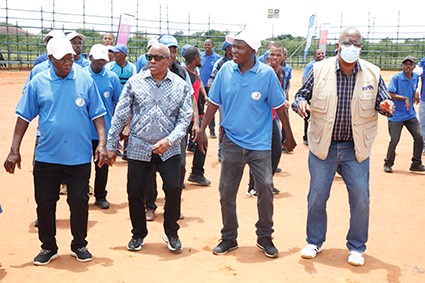 Dikopelo or dikhwaere are synonymous with Kgatleng and the region should therefore be promoted as a hub of entertainment, says Minister of State President, Kabo Morwaeng.
"International tourists should know that Kgatleng offers entertaining dikhwaere and therefore we should ensure they get highly promoted," he said, adding Kweneng was also known for phathisi and borankana.
He said this in Mochudi on Saturday, where Big Dawg Productions, Btv and RB2 Roadshow strictly offered a good night of non-stop dikhwaere entertainment from various groups around the district unlike in other areas where the entertainment varied.
Morwaeng said dikhwaere offered unlimited income opportunities for members, adding other sectors such as lodges stand to benefit through the value chain.
He further urged Bakgatla ba Kgafela to develop and jealously protect their traditional choirs.
He also enouraged them to protect their talent and not allow other people to copy their tradition and make a living at their expense.
The minister reiterated that government was committed to developing creatives industry hence the 50 villages' roadshow, which aimed at unearthing raw talent.
He said they engaged Thato Sikwane, alias DJ Fresh to help them since he has been in the entertainment industry for decades and was internationally recognised.
DJ Fresh was one of the first people to be employed at the commercial radio station, RB2, and Morwaeng said he was therefore important for him to play a role in 30 years anniversary of the station.
He said DJ Fresh was a Motswana living in South Africa and therefore he should not be treated like a foreigner.
For his part, DJ Fresh said Botswana was rich in talent and he has helped emerging artistes to produce music.
He said dikhwaere were unique and therefore should be marketed internationally.
DJ Fresh urged parents not to discourage their children if they show interest in joining the entertainment industry saying they could make a living out of it rather than look for employment opportunities.
Meanwhile, Morwaeng, Mochudi East MP Mabuse Pule, Kgosi Bana Sekai and Kgatleng District Council chairperson Daniel Molokwe each donated to Baikopanyi Choirs Association, which is an association of dikhwaere groups in Kgatleng. ENDS