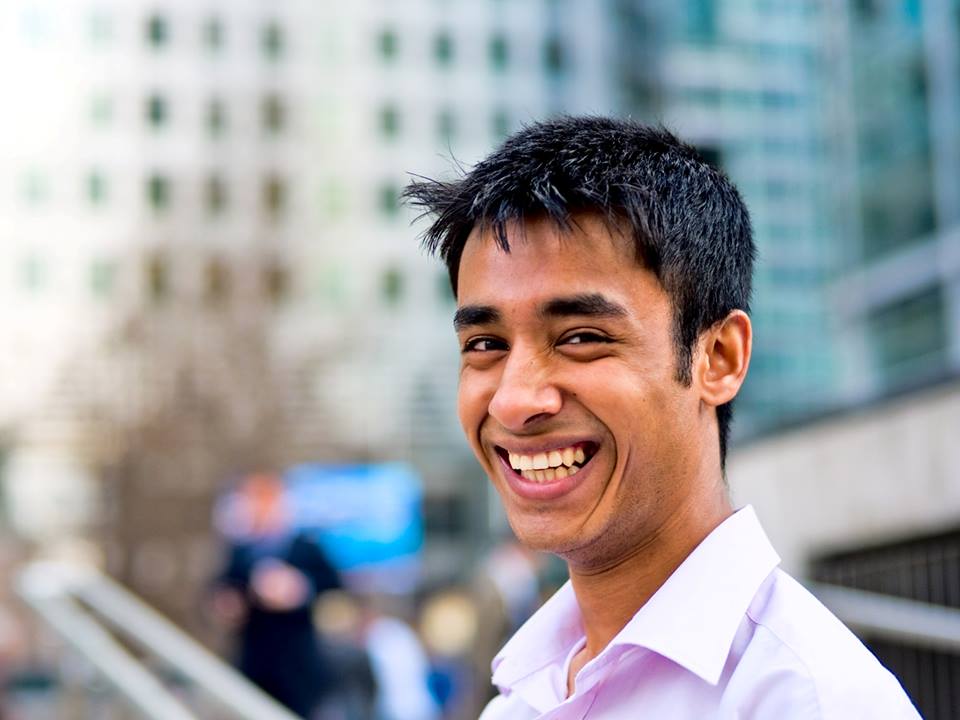 Who is Sabirul Islam?
A very handsome British guy on a journey to Inspire 1 Million people around the world. Its a huge passion I have had, to want to live a life that enables me to make a difference to the lives of others.
Born and raised in a deprived community in London, it opened my eyes to want to explore the world in a manner that no one from my family, relatives have ever explored before. Why? Because I value living life to the max. Yes, we all face challenges, obstacles along the way, but unless we embrace life that who we want to be and what we want to achieve is upon our own destiny, we'll realise the journey that lies ahead for us is all a matter of choice.
I have experienced a journey in life that's not considered normal for the average…yes, I was diagnosed with Epilepsy at the age of 11…but that for me was a gift to take on a challenge in life to prove to society that even with a medical illness, I can run my own businesses from the age of 14, write books which go on to become best sellers and travel the world on my own to leave behind a legacy that has changed the lives of millions!
What inspired you to become a motivation speaker?
The passion to want to instil belief, hope and motivate others to accomplish great things in life through self discovery going on to serve their communities, I felt motivational speaking was the best way to reach a large numbers of people and also have the ability to interact with them to understand issues faced by societies worldwide.
We live in a world that is crying out for inspiration, guidance and support from those who serve their own communities…known to be servant leaders. That for me defines true leadership…one who has the ability to serve the need of his/her community. And I felt that speaking was a massive stride on my journey to serve communities on the international stage making a difference to the lives of many.
My speaking career has taken me now to 26 countries, with 61 international visits, speaking at over 750+ events worldwide, all having started at the age of 17.
Would I have ever thought I'd be taking this route in life…no! But the element of self discovery helps us unveil hidden talent which we already have within us, that just needs to be found!
As an entrepreneur who started off when he was 14 what were some of the challenges you faced?
There were many challenges I had to overcome…firstly I never had experience in running a business nor did I have business knowledge. Everything I learnt was through trial and error.
Age was a significant factor…it had its pros and cons! Not taken seriously because I was young, but that in itself has its benefits, because when you act up on other people telling you that you are not good enough and come back to prove them wrong, it in fact gives you greater courage and satisfaction for having overcome the negativity.
People then start to look at you in a whole new manner…because they now realise you are serious about what you are doing!
Learning to communicate is vital! To constantly speak and express who you are, why you aim to achieve a certain goal, how you plan to implement it and what it is you are going to achieve. People want to hear about it and so you must speak out! And initially that was a fear…but learning to overcome fear I say for me is one of my greatest accomplishments…when seeing an opportunity, to have the natural instinct to grab it with both hands! That's a mindset we all need!
You have  received numerous awards like JCI 10 Outstanding Young Persons  in the of World 2010, Striding Out Future 100 Young Entrepreneur of the Year 2009, -Outstanding Young Achiever 2008 and Most Enterprising Young Student of the Year 2005. What do you attribute this success to?
The awards are a bonus to my vision and goal in life. I set myself out to accomplish my dream in wanting to make a difference in this world…mainly through my Inspire1Million campaign and when people recognise the success, awards are a natural outcome…
But I say to all…chase the dream not the luxury! Why? Because when you do what you love and you are achieving success from it, money follows you without you having to chase it! Known as reversing the role of society!
And that's my motto! To reverse the role of society and do things at times when people won't expect it, and accomplish thing in areas which people fear to even try!
You have spoken at over 750+ events what has been the experience like?
To travel the world and inspire people by speaking at events…I say this is pretty much the greatest experience I could have ever dreamt of…
People see you as a role model, inspiration, an iconic figure…that is very powerful…yet to learn to stay grounded and gain peoples respect! There is no greater feeling of joy, satisfaction and happiness!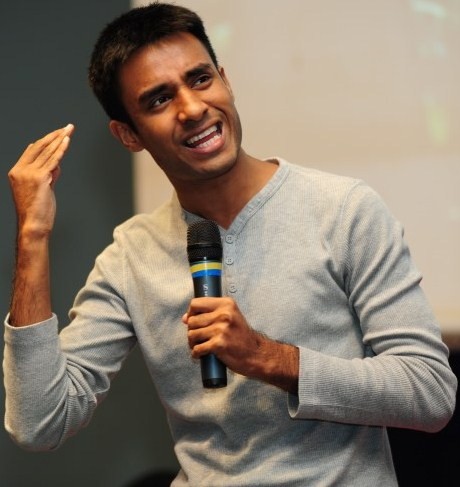 Please tell us about the Inspire1Million Initiatives, what is it about? What do you aim to achieve?
To wake up on a Sunday Morning and to have one young Nigerian guy fly over to London, 9 months after speaking at an event in Nigeria, for him to come knocking on my door just to shake my hand and say:
"Sabirul…You have changed my life."
That brought tears to my eyes. To know that you can travel half way across the world, deliver an empowering talk and change the perception of life for people who you've never met but still have a profound effect on their lives…it made me realise that no amount of money, fame or success, ever buys that feeling or emotion inside!
It was there and then that the question hit me:
"Sabirul…When you leave this world, what will you be remembered for."
The thought to want to a leave behind a legacy, to want to make a difference in this world. Yes, we can all make money, but I feel the real challenge is to be able to make a difference. The idea to inspire 1 million people captured my imagination, thoughts and to make it a reality I learnt the true value of the power of people.
Having launched the Inspire1Million when being honoured the JCI Ten Outstanding Young Persons of the World award in Japan back in November 2010, the world was at my feet with 120 nations being represented in the audience.
My passion was to travel many nations, and change the perception and views of life for 1 million people around the world, to think and act more positive and make a sustainable difference in their communities that have long term profound affects.
Since launching the Inspire1Million in Japan, the first country to support the Inspire1Million was the 'Maldives.' Hosting 13 events in 7 days in 5 Islands in the Maldives. To reach out to communities who were far less privileged but had ambition, but needed a sense of direction.
The success in the Maldives led to Botswana jumping on board, delivering 43 events in 12 days in 10 cities in Botswana with audience attendance of over Two Hundred Thousand's people.
The journey experienced has taken me now to 26 countries since May 2011, with 61 international visits all part of the Inspire1Million campaign. Having delivered over 750+ events worldwide within those 25 nations in Africa, Asia, Latin America & Europe. With an audience size that's hit 885,000+ people with 1 million set to be reached by the end of 2013.
The feedback and response really moves me, to think that one Nigerian guy opened my eyes to the global views and perception of life. That we are in fact not citizens of one nation, that we are all 'Global Citizens.' The act of global citizenship is one we must all practice and learn to adapt to all means of life whether that be adapting to different cultural values, beliefs especially when integrating with people from all walks of life.
The Inspire1Million has helped integrate many cultural understandings and knowledge of the way of life for many people around the world.
I'm Sabirul Islam and the Inspire1Million is my vision, my dream, My Legacy!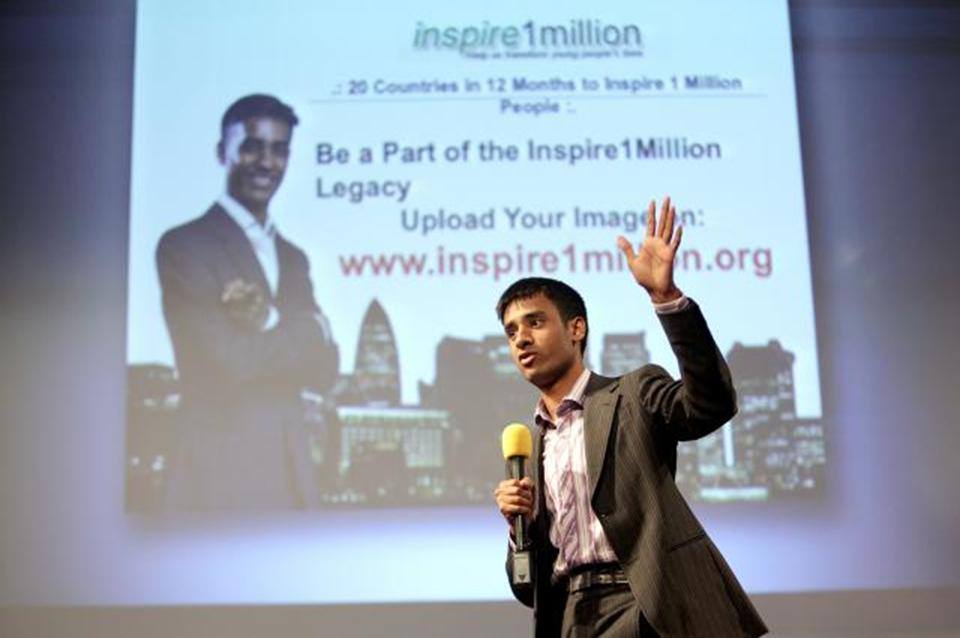 What are some of the campaigns Inspire1Million is involved with?
The Inspire1Million has supported many initiatives all round the world. With its presence felt now in 26 countries, it integrates its philosophy with any organisation who has a passion to impact youth and communities through enterprise and self development programmes.
From organisations such as the Junior Chamber International, The Rotary Club, Junior Achievement, to even the Botswana National Youth Council and hundreds more…the Inspire1Million has played a pivotal role in adapting a style of engagement that interacts with youth on a level that is motivating, empowering and life changing.
The countries that have been involved in the Inspire1Million are as follows:
Bangladesh | Belgium | Botswana | Brazil | France | India | Japan | Luxembourg | Malaysia | Maldives | Malta | Nepal | Netherlands | Nigeria | Oman | Rwanda | Singapore | Slovakia | South Africa | Spain | Sri Lanka | Swaziland | Turkey | UAE | USA | Zambia
In 2011 you were invited in Botswana to speak to young people in high schools and tertiary institutions across the country to inspire, motivate, encourage and share your Teen-Trepreneur ideas. What was the experience like?
Yes, this was the Inspire1Million campaign that took in Botswana. In fact making Botswana the 2nd country to take part in the campaign and still to date having the biggest impact on audience size than any other nation.
With over 200,000 people reached by the visit it is by the far more mind blowing experience I've had in my life.
The impact felt by youth was amazing, and the response and testimonials received brought me many tears! I am proud and thankful to have had the support of JCI and the BYNC who helped host the Inspire1Million in Botswana.
To have travelled 10 cities in 12 days delivering 43 events was just phenomenal. Literally a 360 degree road trip across the entire nation. The cities I visited were:
Gaborone | Jwaneng | Molopolole | Maun | Kasane | Selibhi-Pikwe | Francistown | Mochudi | Ghanzi | Palapye
And I am very excited to be re-visiting Botswana and bringing my Inspire1Million campaign back to a nation I fell in love with almost 2 years ago.
With the help and support of Seth Sethoko, founder of Cryptic Avenue clothing who will be hosting the visit of myself and my younger sister, with the support of the Ministry of Youth, JCI and BNYC. The tour is set to be an as amazing as the first if not, even better!

What were some of the key challenges you felt were faced by the Botswana Youth? And possible solutions to these
The lack of enterprise exposure and to explore beyond the realms of the norm in Botswana. When teaching youth to create an enterprising mindset and to seek opportunities, the common interests were all agricultural and farming yet the youth had talent in technology, in science, in mathematics…So the need to harness such skills to create a lifestyle that suits these young kids with great potential, is fundamental to ensuring Botswana creates youth leaders today!
The lack of belief hit me quite hard…with all this potential, it is a simple push and encouragement that the youth require to ensure they engage in a line work that matches with their passion to accomplish a great a dream.
Botswana needs youth leaders…not for tomorrow, but for today! Leadership qualities that can be adapted into a lifestyle rather than a role! Leaders whose vision is to serve their communities and to enforce change and take action!
Botswana has it…just needs to be unearthed!
Where do you see yourself in 5 years?
On a journey to inspire 10 million…if not more! It's my passion, it's what I love doing and to probably have visited 100 countries by then.
What would you say is the key to success?
"Money isn't all too difficult to make in modern day society. The real challenge is to be able to make a difference."
It is this quote that truly moves me! Because my life and journey isn't work, its my passion to want to leave behind a legacy and be remembered for making a difference in the world.
I always believe that to achieve any form of success, you need to address the 7 P's:
1)      Positivity – Always have a positive mindset no matter how bad the situation is
2)      Passion – Do what you love doing rather than living someone else's dream
3)      Perseverance – Work hard and put 110% into everything you do
4)      Persistence – Work hard on a day by day basis…Consistency is important!
5)      Purpose – Live life with meaning and believe that you can make a difference!
6)      Patience – Success takes time! Never rush and enjoy the journey, as that is what tells the story!
7)      People – Believe in people! Remember that whatever it is you want to achieve there is always someone out there who can and will help you achieve your goal!

What advice do you have for Botswana Youth who would like to make something of themselves?
A)  Follow your own dreams and not the ones your parents could achieve!
B) Try and challenge cultural beliefs…why? Culture doesn't work for everyone, especially when it stops you from living a better life that can one day make a difference to the lives of millions.
C) Believe that you are more than what others perceive you to be!
D) Reverse the role of society…so do what you love doing as long as it has a positive impact and let the money chase you rather than you having to chase money!!!
How can people contact you?
Twitter: Sabirul_Islam
Facebook: Sabirulislam123
Website: http://botswana.inspire1million.org