Entertainment
News
Trending
"Security Systems methods of crowd control only made matters worse" – Gilbert Promotions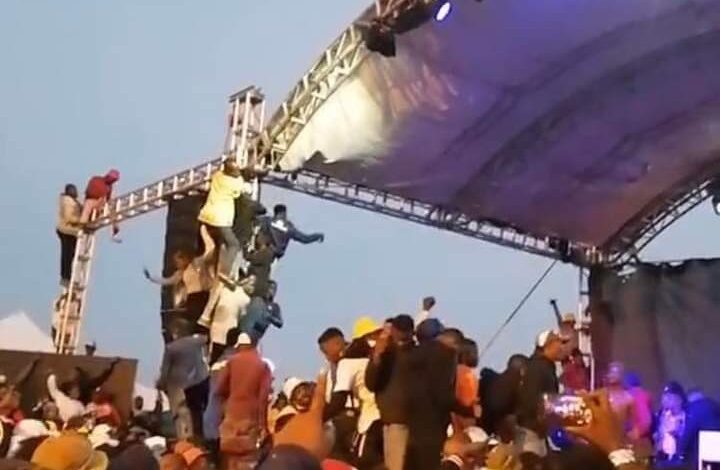 What was supposed to be a fun-filled event, for a moment, turned to be a warzone, leaving some people injured, and some properties damaged.
Gilbert Promotions has issued a statement explaining what transpired at Obed Itani Chilume Stadium over the weekend. According to Gilbert Promotions, the ugly scenes at Francistown was worsened by Security Systems' crowd control methods.
"Gilbert Promotions team, through our ongoing fact finding mission this past two days, found out that a fight ensued between revelers and Security Systems company employees who went beyond their scope by use of what appears to be tear gas and Knobkerries. The security personnel from Security Systems in their efforts of trying to control a crowd which was now pushing against the barricades in excitement of getting a bird's eye view of the main act Makhadzi only led to the unceremonious scuffle. The security system's methods of crowd control only made matters worse but through the intervention of our team members we managed to calm the situation down. Thus it should be noted that we had a series of minor casualties ranging from damages in the sound equipment and injuries from the crowd." Gilbert Promotions explained.
However, the scenes has since caught the attention of the government, with now talks of stringent measures to be put in place.
Speaking during a press conference, two (2) days back, the Minister of Local Government and Development, Honourable Eric Molale said the government plans on implementing stringent measures on entertainment shows. This is in effort to curb the spread of the Corona Virus Disease (COVID-19).
"We were not being careless when we loosened up, we were opening up the economy. We thought the youth will observe COVID-19 protocols, but when you look at Molapo Crossing, and Francistown events, disappointing!" said Minister Molale.
Meanwhile, Gilbert Promotions has vowed to help local authorities to apprehend those who caused damage to the stadium properties. Gilbert Promotions also called on those who got injured at the event to come forward for medical assistance.