News
Trending
"Stop acting like our mother" BOPEU NEC to Mogwera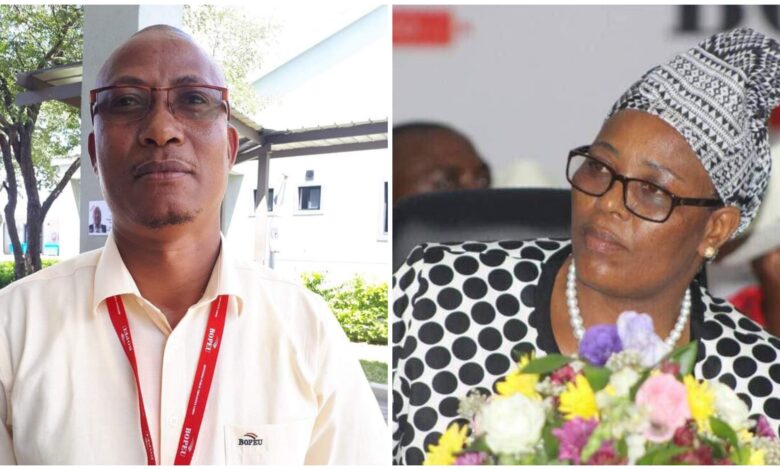 The Monakwe-led faction has criticized Ms. Masego Mogwera for her autocratic style of leadership. According to the faction, the dictatorship displayed by Mogwera will not be tolerated going forward.
"The NEC wishes to note that the numerous courts cases have damaged the Union's reputation and caused confusion, trepidation and consternation among our members. It is therefore critical that proper and legitimate communication channels be established, to return and rebuild the image of the Union, and to avoid unnecessary parallelism, rancor, and grandstanding. More importantly, it is our wish as NEC that communication, including an urgent address of structures be sanctioned by the NEC collective, which includes the President. The President must subordinate herself to the will of the collective and not act like our mother." The NEC led by First Deputy President Mr. Olefile Fast Monakwe underscored in their collective statement yesterday.
It looks like the longtime brawl at Botswana Public Employees Union (BOPEU) which took more than two (2) years is finally subsiding. The scuffle that was characterized by courts cases settles a few months prior to the next Elective Congress in December.
Monakwe and Thirteen (13) other National Executive Committee (NEC) attempted a reconciliation but Mogwera did not attend the meeting. In their collective statement, the fourteen (14) pledged their support to Mogwera and recognized her as a legitimate President of the Union. The NEC however, hopes that Mogwera "also accepts to work with and recognize other elected officials of the Union and not in isolation or with third parties".
In their attempt to expel Mogwera, the move which got overruled by the courts of law, the NEC accused Mogwera of singlehandedly working with third parties, including the government.
"We wish to send a message to government, that as the NEC we will not sit idle and accept interference in BOPEU affairs by any arm or organ of government. The sooner it is accepted that BOPEU is not BCSA and we are not a government department. We have no liability to become an employer-controlled or a sweetheart Union. We will not tolerate a situation where any of our leaders receive instructions from DPSM, OP, Police or DIS". The NEC charged.
The office of the PSP is accused of trying to fabricate the outcome of BOPEU Elective Congress elections in the past by instructing mass transfer of the NEC.