Entertainment
The funeral business is booming as Mzansi Magic's Grootboom & Sons returns for season 2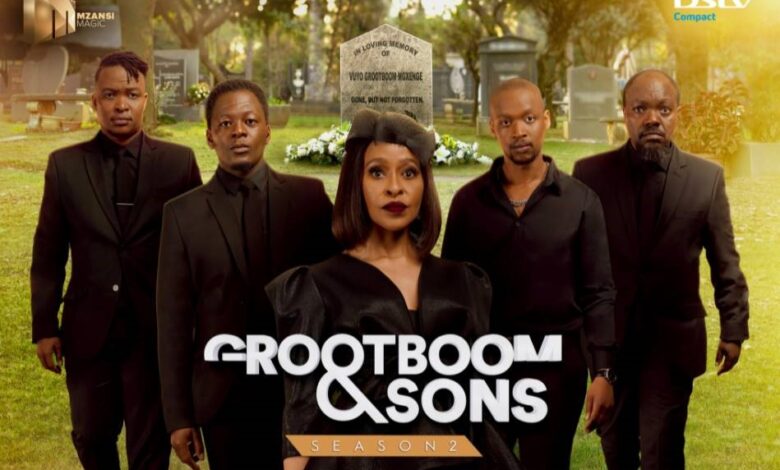 An uncle dramatically rescuing his sister and their nephews from dangerous mobsters, and a new boss for the family business: Grootboom & Sons season 1 ended on an explosive note.
Now the delicious family dynasty drama is back for season 2, premiering on Mzansi Magic on 3 October 2022 at 8pm.
Picking up six months after the end of the first season, Mbulelo is about to become a father twice over – and he wants to marry both the women he impregnated. How will it work out for him? On the other hand, his brother Zola is laying low, trying to step up and grow up, hoping to finally break away from the family business.
Reprising their roles are Zandile Msutwana (as Funeka), Mbasa Msongelo (as Zola), Luzuko Nkqeto (as MK), Neo Mekgwe (as Kefilwe), Nommangaliso Tebeka (as Imani), and Sibulele Gcilitshana (as Vuyo),
Joining the cast is Thembekile Komani (whose credits include Knuckle City), stepping in as Mbulelo.
"The first season of Grootboom & Sons was a resounding success, appealing to audiences with its rich characters and riveting storylines. We're happy to announce that the show is back by popular demand, especially led by our DStv Compact subscribers, who have resonated with this show the most," says Shirley Adonisi, Director of Local Entertainment Channels at M-Net.
Season 2 sees new characters liven up the funeral home: Luthando (played by Greed & Desire's Thami Mngqolo), MK's fresh-from-prison long-lost son, and Didi (played by Unmarried's Keke Mphuthi) , the boisterous mother of his child. How will their entry into everyone's lives shift the dynamics? Can the family keep their business intact, or will competitors swoop in, wiping out a dynasty?
Rounding off the cast are Isibaya's Zinhle Mabena; renowned actress Mapaseka Koetle; Gomora and Housekeepers' Liopelo Maphathe; musician and TV presenter Nkosana 'Bozza' Nkosi; and Abomama's Gabriel Mini.
Don't miss the return of Grootboom & Sons, premiering on Monday 3 October at 8pm, only on Mzansi Magic (DStv Channel 161). Keep up with the latest news on your favourite shows on www.mzansimagic.tv.