News
The Ministry of International Affairs and Cooperation addresses the misleading article that read "Okavango 'Water War'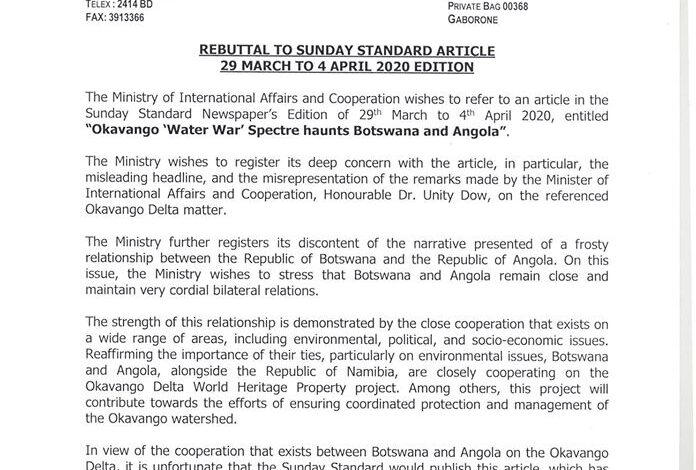 REBUTTAL TO SUNDAY STANDARD ARTICLE
29 MARCH TO 4 APRIL 2020 EDITION
The Ministry of International Affairs and Cooperation wishes to refer to an article in the Sunday Standard Newspaper's Edition of 29th March to 4th April 2020, entitled "Okavango 'Water War' Spectre haunts Botswana and Angola".
The Ministry wishes to register its deep concern with the article, in particular, the misleading headline, and the misrepresentation of the remarks made by the Minister of International Affairs and Cooperation, Honourable Dr. Unity Dow, on the referenced Okavango Delta matter.
The Ministry further registers its discontent of the narrative presented of a frosty relationship between the Republic of Botswana and the Republic of Angola. On this issue, the Ministry wishes to stress that Botswana and Angola remain close and maintain very cordial bilateral relations.
The strength of this relationship is demonstrated by the close cooperation that exists on a wide range of areas, including environmental, political, and socio-economic issues. Reaffirming the importance of their ties, particularly on environmental issues, Botswana and Angola, alongside the Republic of Namibia, are closely cooperating on the Okavango Delta World Heritage Property project. Among others, this project will contribute towards the efforts of ensuring coordinated protection and management of the Okavango watershed.
In view of the cooperation that exists between Botswana and Angola on the Okavango Delta, it is unfortunate that the Sunday Standard would publish this article, which has the potential of undermining the ongoing work on the Heritage Property project.
The Ministry wishes to advice the newspaper to always exercise due diligence before publishing these types of sensational articles which have the potential to tarnish the excellent relations that Botswana enjoys with her neighbours.
The Ministry further wishes to reiterate that Botswana and Angola share a special bond of friendship and cordial bilateral relations, underpinned by shared values of democracy, mutual respect, and the sustainable use of natural resources.
May those who wish to appreciate the context of the deliberations of the Second Meeting of the Fifth Session of the Eleventh Parliament, held on 11th March 2020, and referenced by the Sunday Standard article, be advised to access this information on pages number 28 and 29 of the Daily Hansard, No. 196.