Business
Tony Elumelu Foundation extends its 2022 TEF Entrepreneurship Programme applications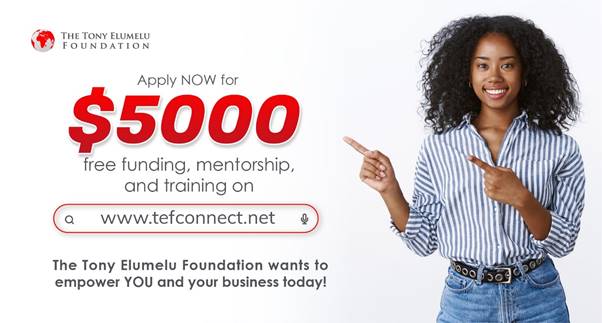 South Africa, 4 April 2022 – The Tony Elumelu Foundation (TEF) has announced that it will be extending the closing date applications for the 2022 Tony Elumelu Foundation Entrepreneurship Programme. The application deadline which had been initially set for 31 March 2022 has been extended to Thursday the 7th of April 2022, giving more African entrepreneurs from across Africa with both existing businesses and business ideas the opportunity to still submit their applications to be a part of the programme.
The TEF Entrepreneurship Programme has extended its application deadline to the 7th of April 2022 and would like encourage African entrepreneurs with business ideas or existing businesses under 5 years, to apply now for a $5000 seed capital, mentorship, business management training and more on www.TEFConnect.net.
The leading philanthropy empowering young African entrepreneurs across all 54 African countries opened its applications for the 2022 TEF Entrepreneurship Programme on the 1st of January 2022.
Since 2015, the TEF Entrepreneurship Programme – the only African-funded entrepreneurship catalyst of its kind – has empowered 15,847 African entrepreneurs with non-returnable seed capital of $5,000 each; twelve weeks of business management training; access to experienced mentors; and membership to Africa's largest entrepreneurial ecosystem.
Applicants have been urged to apply before the application deadline as there will be no further extension.
The Tony Elumelu Foundation Entrepreneurship Programme is open to entrepreneurs across Africa: new start-ups and existing young businesses, operating in any sector. Prospective applicants should apply now on the digital networking hub for African entrepreneurs, www.tefconnect.com