News
WATER SUPPLY INTERRUPTIONS- GABORONE AND MAUN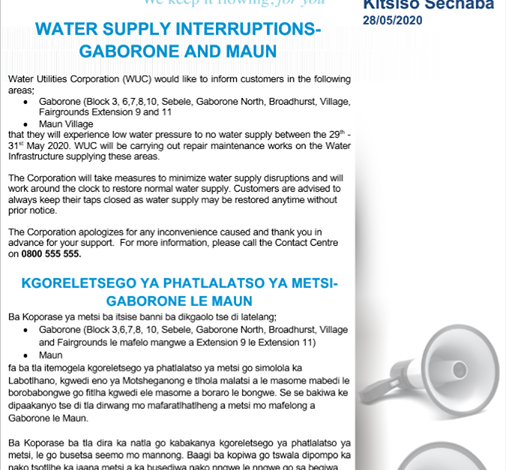 Water Utilities Corporation (WUC) would like to inform customers in the following areas;
• Gaborone (Block 3, 6,7,8,10, Sebele, Gaborone North, Broadhurst, Village, Fairgrounds Extension 9 and 11
• Maun Villagethat they will experience low water pressure to no water supply between the 29th -31st May 2020. WUC will be carrying out repair maintenance works on the Water Infrastructure supplying these areas.
The Corporation will take measures to minimize water supply disruptions and will work around the clock to restore normal water supply. Customers are advised to always keep their taps closed as water supply may be restored anytime without prior notice.
The Corporation apologizes for any inconvenience caused and thank you in advance for your support. For more information, please call the Contact Centre on 0800 555 555.
KGORELETSEGO YA PHATLALATSO YA METSI- GABORONE LE MAUNBa Koporase ya metsi ba itsise banni ba dikgaolo tse di latelang;
• Gaborone (Block 3,6,7,8, 10, Sebele, Gaborone North, Broadhurst, Village and Fairgrounds le mafelo mangwe a Extension 9 le Extension 11)
• Maun fa ba tla itemogela kgoreletsego ya phatlalatso ya metsi go simolola ka Labotlhano, kgwedi eno ya Motsheganong e tlhola malatsi a le masome mabedi le borobabongwe go fitlha kgwedi ele masome a boraro le bongwe. Se se bakiwa ke dipaakanyo tse di tla dirwang mo mafaratlhatlheng a metsi mo mafelong a Gaborone le Maun.
Ba Koporase ba tla dira ka natla go kabakanya kgoreletsego ya phatlalatso ya metsi, le go busetsa seemo mo mannong. Baagi ba kopiwa go tswala dipompo ka nako tsotllhe ka jaana metsi a ka busediwa nako nngwe le nngwe go sa begiwa.
Ba Koporase ba kopa maitshwarelo ka seemo se. Re lebogela kemo nokeng le tirisanyo mmogo ya lona. Go itse go feta fa, leletsa ofisi ya dithuso ya Contact Centre mo nomoreng ya mahala ya 0800 555 555.