News
𝐆𝐄𝐍𝐃𝐄𝐑 𝐀𝐅𝐅𝐀𝐈𝐑𝐒, 𝐀𝐅𝐑𝐈𝐂𝐀𝐍 𝐃𝐄𝐕𝐄𝐋𝐎𝐏𝐌𝐄𝐍𝐓 𝐁𝐀𝐍𝐊 𝐇𝐎𝐒𝐓 𝐆𝐄𝐍𝐃𝐄𝐑 𝐂𝐎𝐔𝐍𝐓𝐑𝐘 𝐏𝐑𝐎𝐅𝐈𝐋𝐈𝐍𝐆 𝐖𝐎𝐑𝐊𝐒𝐇𝐎𝐏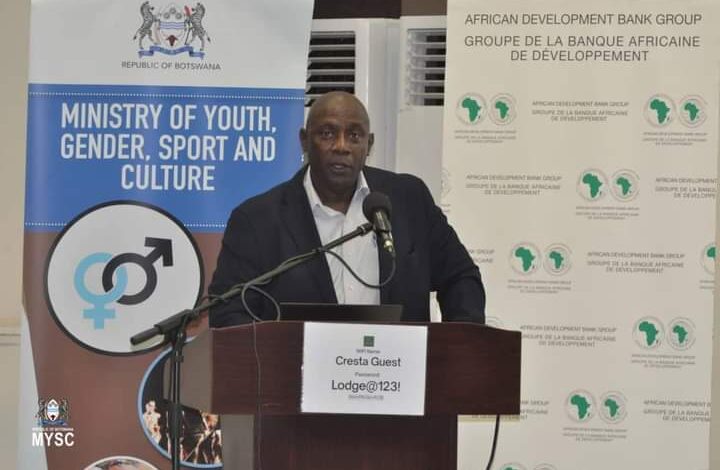 The Ministry of Youth, Gender, Sport and Culture through the Gender Affairs Department in partnership with African Development Bank (AfDB) hosted a workshop on country profiling at Cresta Lodge on Wednesday.
The intention of this engagement was to undertake a gender assessment of Botswana to identify key gender inequalities that constrain inclusive growth as well as identifying key areas for strategic action to address existing gaps.
When setting the tone for the proceedings of the day, Chief Gender Officer at Gender Affairs Department, Mr. Bakane Bakane stated that the forum is important as it is meant to give recommendations and solutions to existing gaps in the gender landscape. He also urged the participants from all sectors to contribute in order to achieve the objectives of the programme.
For her part, Country Manager of Botswana, Ms. Salmina Nhvato mentioned that the gender profile identifies the challenges in various sectors such as agriculture, health, policy, socio-economic and others. She further said that the profiles will assist in accelerating and institutionalizing mainstreaming of gender and women empowerment for maximum impact in achieving gender equality and poverty reduction in the country.
Some of the gender disparities that were discussed included among others the National Gender Policy that was established with the aim of addressing gender equalities. The policy was presented to bring up a lot of tokenism.
In one of her efforts to fight gender disparities, the government of Botswana adopted the National Policy on Women in Development (WID) with the aim of closing the relative gap between men and women equality in accessing socio-economic and development resources. The policy was replaced with the National Policy and Development (NPGAD) to provide guidance and facilitation to programming. The government also illustrated her commitment to gender parity through the significant Convention on the Elimination of Discrimination Against Women and Children (CEDAW).
Groups of discussions also stated that as far as the women's participation in decision making at all levels of public and private life, in Botswana, men wield most of the power at all levels of the society from the position as the legal head of households making decisions over family.
The discussions also recommended that the Gender Affairs Department should do more than just coordinating the implementation of Government Policy on Gender.
In closing, National Gender Commission vice chairperson, Dr Rankopo appreciated the participants for coming up with concrete recommendations that will be used to advocate for gender equality and empowerment.