Technology
5 Incredible Things You Can Do On A Google TV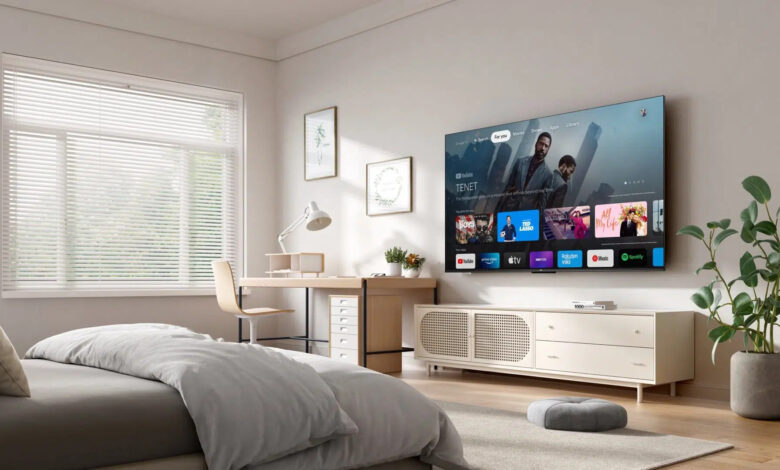 Although streaming video through your TV is nothing new, it's always been a bit of a chore. You have to connect to your home network, find the right app for what you wanted to watch, and then actually click through menus until you found what you were looking for. It was never really an enjoyable experience — until now!
TCL
's new Google TV range brings all your favourite streaming apps into one easy-to-use interface accessible from anywhere in the room with a simple voice command. With built-in Google Assistant support and integrated Chromecast functionality, this ultra-affordable smart TV is the perfect upgrade for anyone wanting more out of their entertainment system.
What's special about Google TV is that it allows users to access their favourite content from streaming platforms like Netflix, Disney Plus, Amazon Prime Video, YouTube, Apple TV, and more by mixing all the content from each streaming service together and putting everything into one interface for a streamlined experience – no matter the platform.
As one of the leading television brands bringing Google TV technology to South African consumers, TCL understands the importance of keeping ahead of the curve. When it comes to innovation, the development team ensures that the brand remains keeping up with the times – and the incorporation of Google TV is a perfect example of this.
What is Google TV and why the hype?
Google TV is a television interaction platform users reach through Google Chrome. Google TV allows users to reach online video contents from various sources including YouTube and Netflix. With Google TV, browsing has just gotten better. It's so easy. All you need for this simple navigation process is a remote, mouse, keyboard or Android-powered device.


With so many exciting features available on Google TV, TCL shares five incredible things users can do on a Google TV:
1) Find movies and series from all streaming apps in one place!
Users can find everything from games to apps on the Google Play Store. Google TV has access to your Google account though which contents can be downloaded when you don't feel like surfing through Netflix or YouTube. Browse as much as you want on your devices with the Google Home app and make use of the voice command.
Your Google TV accesses a Google account where users can download content. Feel like browsing YouTube and Netflix? No Problem. Find all movies and shows on your streaming devices with the Google Home app in a flash. Just say 'Hey Google, find me some good comedies' or 'Hey Google, what are the best dramas?' Then scroll through the results for shows that may look like a good fit. And yes: this works across all your apps!
2) All the games you can imagine
Google TV offers so much more than just an elevated viewing experience. With apps like Google Play Games, users can turn their Google TV into a gaming console. Google Play Games gives players the chance to experience immersive and seamless cross-platform gameplay unlike ever before.
With a variety of gaming offerings, from action to puzzles, Google Play Games allows users to play a wide variety of games on their Google TV with the option of picking up where they left off on any other device running the app. Users can create their own unique profiles, easily record and share their best gameplay moments and automatically save their progress. Built-in Google games include Solitaire, Minesweeper, Snake, PAC-MAN, Cricket, and Whirlybird which are available for users to play even when they're offline.
3) OK Google & Alexa make for the perfect personal assistants
A Google TV built-in voice search feature called "Ok Google" is available on the TCL P635 and other Google TVs. With this feature, it is so easy to use simple voice commands to switch your device on and off, change channels or adjust the volume. Google TV also has built-in Alexa support, so you can control your TV using only your voice with Alexa anywhere in your house.
4) Manage and monitor the content your kids are watching
When it comes to screen time, ensuring children are watching age-appropriate television has become a major concern for parents around the world. However, with Google TV's new Kids profile function, parents are able to monitor what content your kids can consume and for how long.
By simply creating a kids profile on the existing Google account, parents can either lock or unlock certain apps, manage which apps are accessible to kids and share already purchased movies and TV shows through Google Play Family Library.
Additionally, with the addition of the Screen Time Management feature, parents can control the total time kids spend watching TV and set a bedtime to ensure children make it to bed on time.
5) Sync with all your devices and run them together
In today's world, connectivity is key. With Google TV, you can connect to your home network and other devices in a variety of ways , such as Wi-Fi or Ethernet cable. Going the wireless route is a great option as well. If you want to go wireless, Google TV supports Wi-Fi connection with 802.11b/g/n networks at either 2.4GHz or 5GHz. This implies that once you have connected your device(s), they will automatically sync with one another to run smoothly together. You can also connect your mobile device(s) through the powerful Bluetooth 4.0 LE technology.
Do these things and more with your TCL Google TV. Take viewing up a couple of notches by checking out some of the fantastic TCL Google TV offerings available. It's time to make your streaming life bigger and better!