News
COMMENCEMENT OF THE INDUSTRIAL DEVELOPMENT ACT, 2019 AND THE TRADE ACT, 2019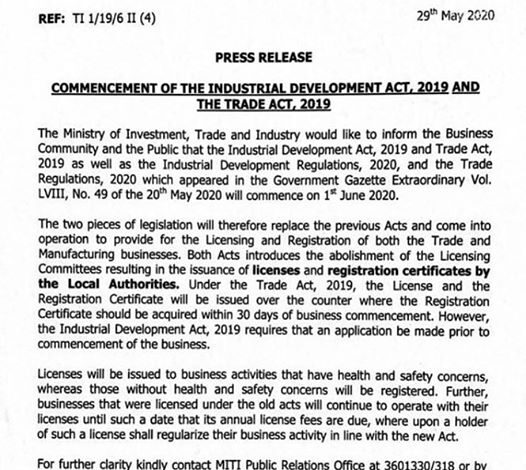 The Ministry of Investment, Trade and Industry would like to inform the Business Community and the Public that the Industrial Development Act, 2019 and Trade Act, 2019 as well as the Industrial Development Regulations, 2020, and the Trade Regulations, 2020 which appeared in the Government Gazette Extraordinary Vol. LVIII, No. 49 of the 20th May 2020 will commence on 1st June 2020.
The two pieces of legislation will therefore replace the previous Acts and come into operation to provide for the Licensing and Registration of both the Trade and Manufacturing businesses. Both Acts introduces the abolishment of the Licensing Committees resulting in the issuance of licenses and registration certificates by the Local Authorities.
Under the Trade Act, 2019, the License and the Registration Certificate will be issued over the counter where the Registration Certificate should be acquired within 30 days of business commencement. However, the Industrial Development Act, 2019 requires that an application be made prior to commencement of the business.Licenses will be issued to business activities that have health and safety concerns, whereas those without health and safety concerns will be registered.
Further, businesses that were licensed under the old acts will continue to operate with their licenses until such a date that its annual license fees are due, where upon a holder of such a license shall regularize their business activity in line with the new Act.For further clarity kindly contact MITI Public Relations Office at 3601330/318 or by email at MITIPRU@gov.bw or Ministry of Investment Trade and Industry Face Book page.
Thank you.
Potso Thari
For/PERMANENT SECRETARY