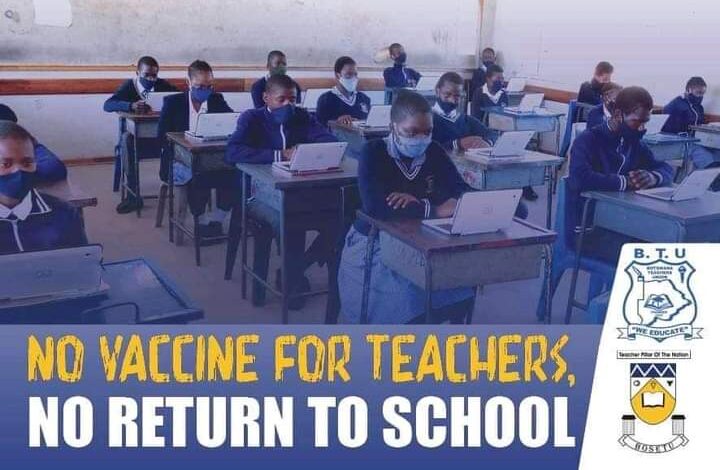 When the schools were temporarily closed a month ago, they were supposed to re-open tomorrow. However, the classes suspension was extended by further three (3) weeks by the president. President Masisi announced the postponement recently when he gave an update on the fight against COVID-19.
The expectation when the schools got closed a month ago was that the period will be used for vaccinating the educators. A month down the line, educators are still not vaccinated, hence a further three (3) weeks delay.
While there are questions on how the government will be able to vaccinate teachers in three weeks while failed in a month, the educators stand resolute about their 'No vaccine, No classes" campaign.
"We would like members to note that in line with terms of previous announcement of the schools closure, the re – opening delay by three weeks as announced by HE on Friday 13th August 2021 means that educators would still remain at their homes during this period. This also applies to lecturers and instructors employed under the Ministries of; Tertiary Education, Research, Science and Technology (MoTE) and Ministry Employment, Labour Productivity and Skills Development (MELPSD). We still advise all our members that the decision that members should NOT get into classes to teach or interact with students if they are NOT vaccinated before the schools re –open remains firmly enforce and that the "No Vaccine, No Classes" campaign should continue" the Educators Trade Unions-Botswana Teachers Union (BTU) and Botswana Sectors of Educators Trade Union (BOSETU) held.
The two Educators Trade Unions call on the government to roll out a "teacher prioritization" vaccination plan within the remaining three (3) weeks. Without the vaccine, the educators indicate that they will not go back to classes as "educators would be thrown back to highly exposing and vulnerable environments without any sort of protection."
BTU and BOSETU have pointed a finger at the government and President Masisi for empty promises. The Unions says that the government has promised vaccination on a number of occasions, but all in vain.