News
Minister Segokgo tours Bofinet data centre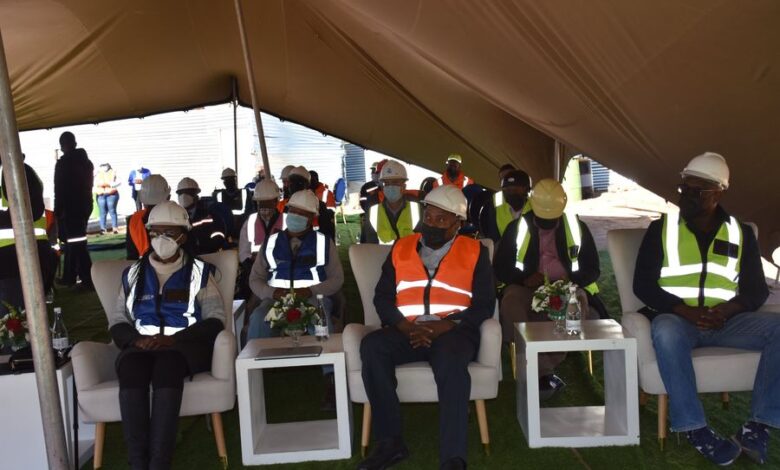 Honourable Minister Thulagano M. Segokgo yesterday morning visited the Botswana Fibre Networks (BoFiNet) digital delta data center where construction is currently ongoing. The construction for the data center commenced in March 2021 and is expected to be completed by July 2022.
When speaking at the venue before the tour, the Minister stated emphatically that the project needs to be completed as soon as possible as it is critical to Botswana's data sovereignty. Furthermore, he said the project will aid Government's efforts towards building a knowledge-based economy. "We need to re-focus and re-double our efforts to achieve objectives of digitalization and a smart Botswana, backed up by the kind of infrastructure being built here," concluded the Minister.
For his part, the Chief Executive Officer of BOFINET, Mr. Mabua Mabua expressed his gratitute towards all the stakeholders involved in ensuring that the project is realised. He also re-iterated the Minister's words that data needs to be brought back into the country. Further, he lamented the negative impact that the covid-19 pandemic has had on the progress of the project, such as pushing back its end dates.
When giving the closing remarks, Mr. Pontsho Pusoetsile, the Government Online Coordinator, said that when Government online services are launched later in the year, he hopes that the project would be completed so that the data would be stored on a local platform instead of being hosted on foreign ones.
The data center is a 1000sqm facility within the BDIH (Botswana Digital and Innovation Hub) Science and Technology Park in Gaborone. Once it is operational, the centre will ensure the security and protection of data in the country, in line with the Data Protection Act of 2018.