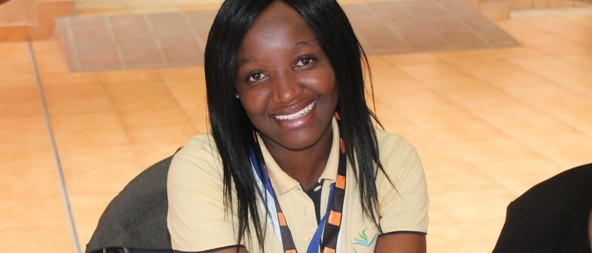 Queen is a 23 year old Motswana young woman from a village called Molepolole." I am God-fearing, very ambitious, determined and I want my legacy to impact humanity. I am also a graduate of the University of Botswana, where I am currently working as a Job Placement officer."
You are involved in a community outreach projects? Please tell us more
Yes, I have done and I still do a lot of voluntary work especially on issues of HIV/AIDS activism, leadership and mentoring. I have worked with Forum for Even out Control of HIV/AIDS as an outreach officer where I taught at clinics and junior schools in my village on multiple concurrent partnership at clinics & junior schools, helped to organize community mobilization workshops and also facilitated talk shows on communicating Healthy Behavioural Lifestyle Model, MCP & HIV/AIDS. I have also assisted under Face the Nation where I worked at Goodhope Senior School as a peer educator, I established HIV/AIDS club, attended to the needy and vulnerable students, mentored and did counselling.  There is this project which has now become an annual event it is called 'Gamodudu Outreach Project'. It is organized by peer counsellors who work at the University of Botswana Careers & Counselling Centre, and as a part of the team I assisted mainly to solicit funds the centre.
When did it start? What motivated you to be part of this project?
It started in 2007 after I completed at senior secondary school, I then realised I have a role to play in the lives of young people in my country and this is this is to help them find out their unique abilities identify their hopes and dreams and hearten them to pursue their dreams in a way that makes a contribution to society and humanity, and this is my burning ambition. I strongly believe that there is still more that needs to be done to help empower young people, and help them turn their dreams into a reality.
You were selected for the 2013 MILEAD Fellowship, how did you find out? What was your first reaction?
They emailed me the award letter. I was very happy, actually I could not believe it and I still remember reading the email and closing it again then re opened it.
How important are initiatives like MILEAD Fellowship when it comes to stimulating good leadership in Africa?
They are vey imperative because they give promising young women leaders an opportunity to be mentored, they develop or rather enhance their leadership skills, equip them to be the next generation of change agents, leading social activists and assist them to turn their dreams into reality. MILEAD Fellowship is helping young people to re-shape the future of Africa to make it a better continent.
If you president of Botswana for a day what would be the first thing you would do?
Mmhh… I will fund 50 ground-breaking, innovative projects that can help diversify the economy introduced by the youth and cancel the national internship programme.
What do you think are some of the challenges facing African youth today?
Lack of self awareness, I mean looking at instances when an individual does not know who they are, where are they going, and how to get there. And as an alternative they live lives that are determined by other people, or their circumstances. It is a challenge because in the long run it affects who that individual was meant to be.
The other challenge is unemployment. I always say it is no longer "tough" but "rough", so the youth have to know that opportunities won't come knocking at their doors, they have to get themselves out there, be innovative enough to come up with their own initiatives and help to fight this problem of unemployment. I believe it is possible to do so.
What does it mean to be a Motswana woman in the 21st century?
The place of a woman in society is now changing; slowly women are being accepted and viewed as change makers. So this gives a young woman like me anticipation knowing that even though she has been raised in a patriarchal society, things are now done differently, for example, certain professions used to be viewed as only a man's career, nowadays this is not necessarily the case, moreover the girl child is given the same opportunities as the boy child.
Where do you see yourself in 5 years time?
Wow, I see myself as one of the first ( J) and best rehabilitation and health psychologist in Botswana, having established an organization that assists thousands of young people to 'live' their dreams and Botswana's ambassador to the United Nations and eventually become the second African Union woman president.
Who are your top 3 role models in Africa?
Ellen Johnson Sirleaf, Nelson Mandela and Kofi Anan
What is your favourite hangout spots in Botswana?
Canaan farms- at Rasesa, the place is very beautiful.
What are you listening to at the moment
The power of right associations by Joel Osteen and Amazing Grace by Chris Tomlin
What advice would you like to give young women across Africa who would love to make something of their lives?
First of all life is choice, so they should choose well. Just know that it is never too late to be what you might have been, or to start over again. Never give in, never ever, give in, no matter how hard it looks, no matter how painful it might be, never give up! NEVER SURRENDER. I am not saying it is going to be easy but you got to try. And never let somebody tell you, that you can't do something, if you have a dream, protect it and work so hard to turn it into reality. Lastly, they should know that opportunities won't come knocking at their doors, so they have to get out there and do something positive in their communities, work hard and look for those opportunities.
How can other youth connect with you?
They can add me on facebook— Quinn Baboloki Kgeresi   +26 7758 79711