News
499 Botswana Police Service Recruit Constables graduate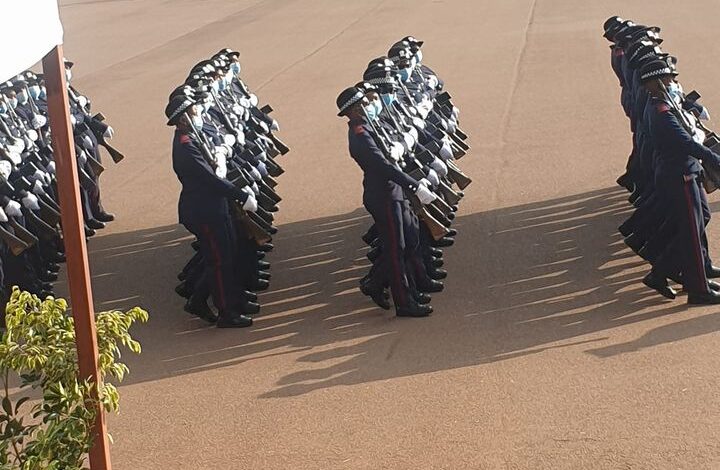 KEYNOTE ADDRESS BY
HON. THOMAS KAGISO MMUSI
MINISTER OF DEFENCE AND SECURITY,
AT THE PASSING OUT PARADE FOR INTAKE NO. 1 OF 2022
BOTSWANA POLICE COLLEGE, OTSE
22ND JULY 2022
 Director of Ceremonies;
 Permanent Secretary Ministry of Defence and Security Ms Botlhale Makgekgenene;
 Acting Commissioner of Police Mr Phemelo Ramakorwane;
 Dikgosi
 Secretary for Safety and Security Mr Kago Ramokate;
 Deputy Commissioners, the Senior Management and members of the Botswana Police Service;
 District Commissioner for South East District
 Chairman, South East District Council
 Chairperson, Malete Land Board
 Council Secretary, South East District Council
 Board Secretary, Malete Land Board
 Senior Government Officials;
 Graduating Recruit Constables;
 Distinguished Guests;
 Ladies and Gentlemen;
 Good morning Bagaetsho!
1. I am greatly honoured and privileged to officiate at this ceremony marking the successful completion of the first Pre–Service training for Botswana Police Service (BPS) for the year 2022.
2. Director of Ceremonies; let me start by offering my sincere congratulations to our Intake No.1 of 2022 graduates on your current achievement. You are among the most privileged few young Batswana to have been selected to join the Botswana Police Service (BPS). This intake is the first group of 499 Recruit Constables comprising of 249 female and 250 male officers. The almost 50/50 gender distribution is highly commendable and this clearly demonstrates that the BPS is alive to the empowerment of women which is a key policy imperative for Government.
3. I am further informed that 45% of the trainees hold various professional qualifications, including among others Law, Public Administration, Management, Criminology, Journalism and Telecommunications. Therefore, I am confident that the introduction of these diverse specialised skills will go a long way in improving the capability and overall service delivery in the BPS.
4. I believe that the rigorous training you have gone through has armed you with the necessary skill sets to be able to execute your duties effectively. This pass out parade therefore, endorses your transition from being ordinary citizens to being officers of the law – Police Officers. This is a moment of pride for you, your families, communities and the country.
5. I wish to hasten to point to you that being a Police Officer is a call to national service. I challenge you to accept your new mandate with total respect, devotion, commitment and sacrifice, fully aware of the inherent sacrifices that go with the law enforcement profession. To be an effective and efficient police officer, you must ensure legal and moral alignment in the execution of your duties.
6. Ladies and Gentlemen; our citizens expect high standards of service from us, characterised by discipline, fairness, respect and objectivity. Therefore, you should be prepared to go beyond the normal call of duty to serve Batswana as that is the nature of police work. As you embark on your law enforcement career, I urge you to maintain the highest level of discipline by strictly observing police code of conduct and core values of Botho, Excellence, Integrity, and Teamwork.
7. Intake No.1 of 2022, please note that you are joining one of the most disciplined and professional organisations in this country, the continent and indeed the world. Consequently, you will be held to high levels of discipline, performance and accountability. You're encouraged to enhance this professionalism and respect the uniform and the badge.
8. At this juncture, I would like to take this opportunity to commend the BPS for embracing Government transformation agenda, specifically the "Reset Agenda" as pronounced by His Excellency, the President. Among its priorities is saving the lives of our people from COVID-19. As you are all aware, the Botswana Police Service, together with other stakeholders, was at the forefront of our fight against the pandemic. I wish to applaud the leadership and all members of the BPS for their gallant efforts in this regard.
9. Distinguished Guests, issues of public safety and security are critical for the creation of an enabling climate for socio-economic development. Some of the current public security or crime challenges facing this country include cash-in-transit heists, livestock theft and rustling, cybercrime, drug trafficking and Gender Based Violence (GBV) incidents. If not addressed, these will impact negatively on the social cohesion and peace, economic growth and job creation, and bilateral relations with neighbouring countries. We need to decisively and effectively respond to these public security challenges and ensure safer communities.
10. Government is committed to ensuring that the BPS is well resourced to be able to execute its duties effectively and ensure a safer society. Capacitating the police is therefore a top priority for my Ministry. It is in this regard that Government allocated 1,000 new positions to the Botswana Police Service during the 2022/2023 financial year. The 499 Recruit Constables who are graduating today will therefore be followed by a second intake. I am pleased to note that the enrolment of the second intake for this year has already commenced and is at an advanced stage.
11. In addition, financial resources have been made available for the construction of police posts and acquisition of specialised equipment for the police. These efforts are expected to contribute significantly to the effectiveness of the police.
12. Due to the transnational nature of contemporary crime, Botswana has extended collaboration across borders in the fight against crime. The country enjoys membership of the Southern African Regional Police Chiefs Cooperation Organisation (SARPCCO) established under the Southern African Development Community (SADC), the African Union Mechanism for Police Cooperation (AFRIPOL), and the International Criminal Police Organisation (Interpol). These structures have been established to strengthen collaboration in the fight against cross border and transnational organised crimes such as human trafficking, drug trafficking, cybercrime, terrorism, to mention but a few.
13. Director of Ceremonies, although we are trained to be brave and face the risks that come with the job of policing head-on, at our very core we are Batswana. We are therefore expected to show compassion to our fellow citizens who are in need. This is not only part of our culture, but is also espoused in our National Vision 2036. I therefore, wish to applaud the immeasurable contribution made by the BPS through its social responsibility programme of building houses and offering food hampers to the underprivileged members of the society.
14. In this connection, I am pleased to note the voluntarily contribution of Ninety-Nine Thousand Eight Hundred Pula (P99 800.00), made by the current Police Recruits towards assisting a disadvantaged family in Magotlhwane village. I wish to commend the trainees and the general membership of the BPS for this good gesture. This shows that the training has truly inculcated the values of the BPS in the Police Recruits. Please keep up this spirit of giving back to the community. This is consistent with the national Vision 2036 pillar for Human and Social Development, which recognises the importance of social inclusion and equality as key components in achieving prosperity for all.
15. Director of Ceremonies, please allow me to conclude my address by once again congratulating Intake No.1 of 2022 graduates Police Recruits on their successful completion of the pre-service training and equally wish them a successful policing career. "Ladies and Gentlemen, congratulations!"
16. I thank you for your attention.
PULA!