5 Simple Self Defence Tips You Can Always Use
We live in a world where no day is a safe day. Intruders can always pounce on you whether you at work, in your home or on the road. There are ways however that you can minimize your chances of being attacked by learning some of these basic self defence tips.
Eyes; Gouging, poking, or scratching the attacker's eyes with your fingers or knuckles would be effective, as you can imagine. Besides causing a lot of pain, this should also make your escape easier by at least temporarily interfering with his vision.
---
2. Nose: If the attacker is close in front of you, use the heel of your palm to strike up under his nose; throw the whole weight of your body into the move to cause the most pain and force him to loosen his grip on you. If he's behind you, you can strike his nose (from the side or front) with your elbow. Either way, aim for the nasal bones.
---
3. Neck: The side of the neck is a bigger target, where both the carotid artery and jugular vein are located. You could possibly temporarily stun your attacker with a knife hand strike (all fingers held straight and tightly together, with thumb tucked and slightly bent at the knuckle) at the side of the neck. (For even more injury, you could thrust your elbow into your assailant's throat while pitching the weight of your body forward. See the Target Focus Training video below.)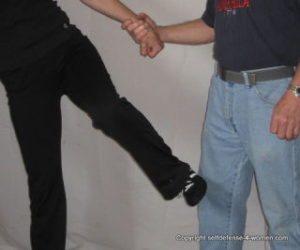 4.  Knee: the knee is an ideal self-defense target, vulnerable from every angle and easily kicked without risk of your foot being grabbed. Kick the side of the knee to cause injury or partially incapacitate your attacker. Kicking the front of the knee may cause more injury but is less likely to result in imbalance.
 5.Use everyday objects. Everyday objects you carry around with you or things in your environment can also be used to your advantage as weapons. Hold a key or pen between your middle and ring finger while you're walking home in the dark for more assurance. Outdoors, you can toss some dirt or sand into your attacker's eyes. Women are often told to spray perfume or hairspray into an assailant's eyes. The point is, use what ever you can to make your defense stronger (for more inspiration, watch some Jackie Chan movies).