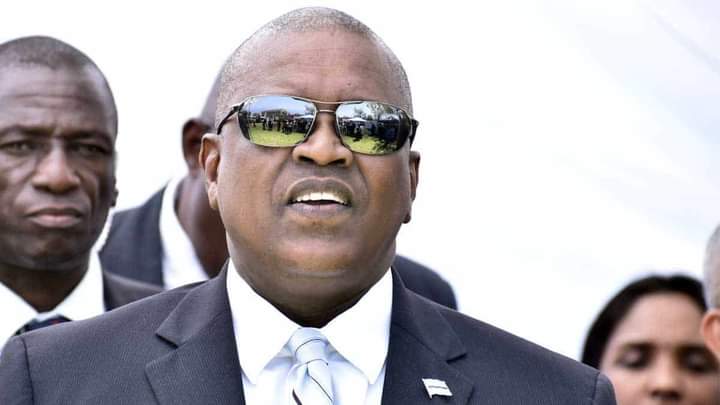 Botswana health system is overwhelmed by the Corona Virus Disease (COVID-19) cases. As the situation is, there are shortages in almost everything needed to fight COVID-19.
Trying to account to the Ramotswa village community earlier today, His Excellency the President Dr. Mokgweetsi Eric Keabetswe Masisi shifted the blame to the COVAX facility for the shortage of vaccines.
"COVAX, the facility in which we contributed money, was just to trick us. We poured a lot of money in the facility as poor African countries. It was said we will be given some vaccines, it turns out that was just deception, we are only getting extremely small quantities. For example, recently they said there is a shortage of AstraZeneca, that is crookery." Masisi lashed out.
COVID-19 Vaccines Global Access, abbreviated as COVAX, is a worldwide initiative aimed at equitable access to COVID-19 vaccines directed by Gavi, the Vaccine Alliance (formerly the Global Alliance for Vaccines and Immunization, or GAVI), the Coalition for Epidemic Preparedness Innovations (CEPI), and the World Health Organization (WHO).
Despite the claims of trickery by the President, the Assistant Minister of Health and Wellness, Honourable Sethomo Lelatisitswe says Botswana has actually benefited from the COVAX facility. Lelatisitswe says most of the vaccines they currently have at the ministry are from the COVAX facility.
"As the Ministry, we have no official communication which says the COVAX facility is not working, maybe it is a new information, I have not even seen the President's words." Lelatisitswe rebutted.
Demonstrating how bad the situation is recently before Parliament, Lelatisitswe gave the below to show how overwhelmed both public and private hospitals are;
Scottish Livingstone hospital: has 17 patients out of the 22 bed capacity
Deborah Retief Memorial Hospital: 21 patients out of 21 bed capacity
Nyangabgwe Referral Hospital: 47 patients out of 16 bed capacity
Princess Marina Hospital: 86 patients out of 83 bed capacity
Mahalapye: 22 patients out of 20 bed capacity
Gaborone Private Hospital: 25 patients out patients of 25 bed capacity
Sidilega Private Hospital: 17 patients out of 20 bed capacity
Lobatse: 19 patients out of 29 bed capacity