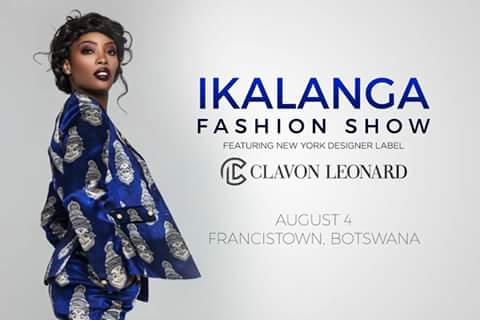 Botswana Youth Magazine team had astatement from the Ikalanga fashion week reaching them in regard to the fashion week they are to host which will feature the popular designer from New York namely Clavon Leonard. This is what they had to say about their engagement with him; This new concept has to bring change and reflect a unique display in the industry of Fashion designers and Modeling.
MODERN DESIGNS
As a visual expression of the modern life style, this concepts will represents a new character i.e. urban bound, young and vibrant, and it will communicate multiple messages associated with the company i.e. competitive, innovative and timeless. The strategy is to raise professional fashion designers and models who can stand out in any market place globally, that would offer products and services of international repute, and that would be known as market leaders in the fashion, modeling and lifestyle business.
ABOUT THE NEW SIGNATURE CONCEPT
"The new signature concept  incorporates all the aspects that are reflective and stand out of the rest it communicates all touch points of the company and reflects the corporate philosophy, it symbolizes through the different elements making the  mark, the concepts of symbiotic relationships, strength, security, support, integrity and synergy." they revealed. The narrative of the concept   identifies the visual vocabulary and the symbolic relationships to the company vision, mission and values.
THEY HAVE SET GOALS
According to organisers the concept was born out of love and passion with the purpose of taking local designers and models from street corners into the sport light using workshops and fashion designers exhibition shows. Moreover the statement reaching us from the organizers are that their aim is to develop local designers and models empower them with skills that can take them anywhere in the world.
DEVELOPMENT TOPS THEIR PRIORITY CHART
"We have realize that there is a lot of skilled and talented fashion designers and models but most of these lack serious capacity building skills which we intend to address this through a skills workshop that will be conducted by one of the best facilitator who has reputable track record that is unquestioned Clevon Leonard who is a New York based designer and label owner most noted for his menswear ." they said.
UNEARTHING TALENT
"We have a vast of talent in our country that is idling and lacking guidance on how to use or commercialize their skills in the world of fashion design and modelling world. We are confident that the foundation that we will lay out will see through generations and generations to come and we will see a total transformation to this industry that will grow to a point that it is able to contribute to the economy of our Country"