Entertainment
Kevin Hart And T.I To Produce A Music Themed Comedy Series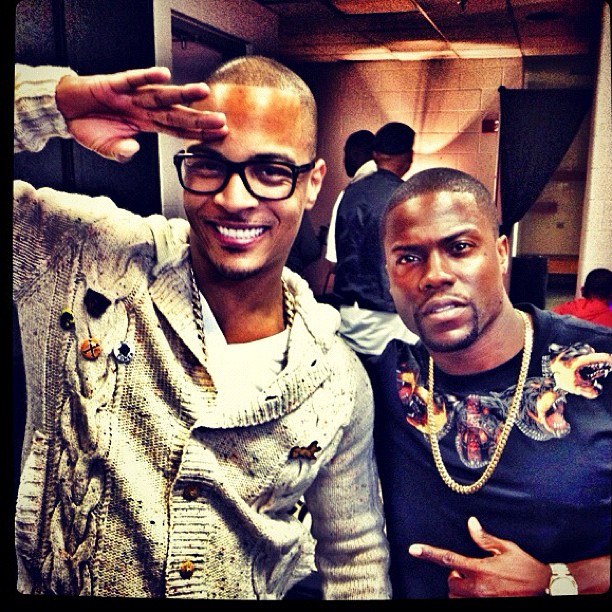 We can hardly wait for this one, the rapper and comedian will executive-produce office-set project called 'The Studio' on Showtime.
The Studio, written by Ayesha Carr (Everybody Hates Chris), will be set in a modern music recording studio, following the unorthodox conversations and antics of its employees. Carr will co-executive produce alongside Hart, T.I., Dave Becky (Everybody Hates Chris, Louie) and T.I.'s manager, Brian Sher (T.I. & Tiny: The Family Hustle, Boss) for Lionsgate TV as part of the studio's deal with Hart.
T.I. and Hart have both musical and cinematic history. The rapper co-starred in Hart's 2015 film Get Hard and made a cameo in last year's Ride Along 2. Hart (under alias "Chocolate Droppa") recruited T.I. for a track ("Baller Alert") on the hip-hop soundtrack to his 2016 documentary, Kevin Hart: What Now?
Hart is set to star in two 3-D films in 2017: live-action fantasy-adventure sequel Jumanji: Welcome to the Jungle, out in December, and computer-animated superhero comedy Captain Underpants: The First Epic Movie, out June 2nd.
T.I. will appear in the upcoming, William H. Macy-directed comedy Krystal and Marvel sequel Ant-Man and the Wasp. The rapper recently traded verses with Ice-T as part of Jimmy Kimmel Live!'s "Mash-Up Mondays" and contributed to a medley of Tupac Shakur'ssongs at the Rock and Roll Hall Of Fame Induction ceremony alongside Alicia Keys, Snoop Dogg, YG and Treach.