Features
Morgan Tsvangirai To Be Buried On Monday, Next To His First Wife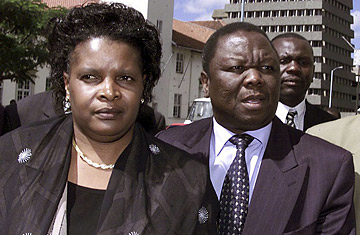 Morgan Tsvangirai To Be Buried On Monday, Next To His First Wife
The remains of Morgan Tsvangirai, the leader of Zimbabwe's opposition Movement for Democratic Change (MDC), are expected in Harare on Saturday evening ahead of his burial in his home village.
Tsvangirai succumbed to colon cancer on Wednesday while at the Wits Donald Gordon Medical Centre in Johannesburg.
Zimbabwe's state broadcaster reported that Tsvangirai's remains would arrive at the Robert Gabriel Mugabe International Airport at 7pm on an Air Zimbabwe flight.
Tsvangirai, a former prime minister in a short-lived unity government with former president Robert Mugabe, is set to receive a state-assisted funeral. He is expected to be buried on Monday in Buhera, next to his first wife, Susan, who died in a car accident in March 2009.
It is understood that Tsvangirai's body will be taken to Robert Mugabe Square on Sunday to allow members of the public to pay their last respects. The venue is known to the MDC as "Freedom Square" and often played host to Tsvangirai as he rallied party supporters against Mugabe.
Elias Mudzuri, one of the MDC's three presidents, said on Friday that the burial would take place "either on Monday or Tuesday" and "final arrangements" would be made once the body had arrived back into Zimbabwe.
He refused to comment on claims of a struggle within the MDC. "I don't want to talk at the moment, lest it be seen as that I don't have respect for my leader. I will only speak after the funeral about all the things that have been happening lately," Mudzuri said.
Meanwhile, Tsvangirai's arch-rival of the last 20 years, Mugabe, who has not been seen in public since his last televised speech on November 19, has not issued any public statement to offer his condolences to the family.
Mugabe turns 94 on Wednesday and had been preparing for a fourth election showdown against Tsvangirai, before a military revolt pushed him out. Mugabe controversially won all the last three presidential elections against Tsvangirai, who claimed the polls were never been free and fair.