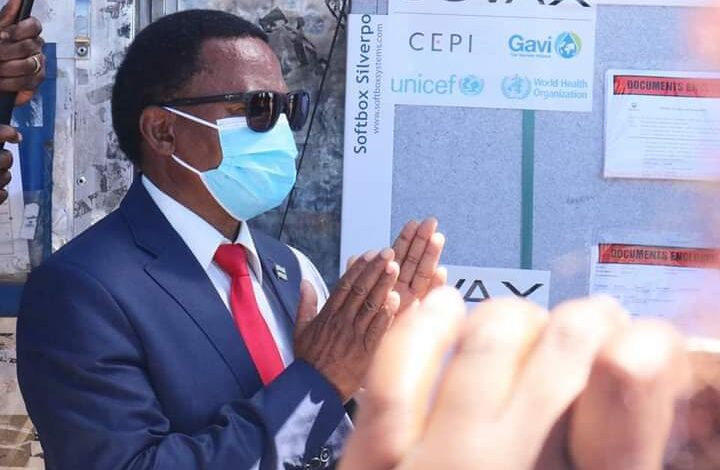 On Saturday, Botswana received thirty-three thousand and six hundred (33 600) vaccines. The vaccines arrived at Sir Seretse Khama International Airport (SSKIA) by Ethiopian Airlines.
Receiving the vaccine among others was the Vice President of Botswana His Honor Slumber Tsogwane, accompanied by the Minister of Health and Wellness Honourable Dr. Edwin Dikoloti. According to the Vice President the thirty-three thousand six hundred (33 600) are part of the expected hundred thousand (100 000) vaccines procured from COVAX. He says the vaccine is manufactured at South Korea.
"We have taken out last thebe to try and order these, and we are still to order more because the intention is to vaccinate, at the end of the day, everyone in our population. And it is our notion that we continue. Our President is determined that if anything, we will have to forego some of our development projects to save our people, to save the citizens of this country, so we will do so. We have just passed the budget, we are hopeful that the mineral sector will do better, there are projections but if it can't, we will have to forego some of our development projects, so that Batswana can be vaccinated." Tsogwane said.
On the other side, the United States Embassy to Botswana indicated through their Facebook page that the thirty-three thousand and six hundred (33 600) vaccines that arrived on Saturday was a donation.
"Under the dire circumstances of this pandemic, which has taken such a heavy toll on the world, the United States is grateful that Botswana is now better equipped to combat the pandemic, and strongly welcomes the arrival of 33,600 doses of COVID-19 vaccine through COVAX on March 27th. Bilateral donations of vaccines will not be sufficient or fast enough to end this pandemic. As such, the United States is leading by example as the largest contributor to COVAX, providing $2 billion and committing an additional $2 billion in funds to Gavi in support of the COVAX Advance Market Commitment (AMC). The United States has worked closely with the Government of Botswana since the start of the pandemic and has contributed $8.4 million worth of assistance to the COVID-19 response in Botswana. These investments and commitments build on a long tradition. Over the past two decades, the United States has provided more than $140 billion in global health assistance." U.S Embassy Gaborone posted.
COVID-19 Vaccines Global Access, abbreviated as COVAX, is a global initiative aimed at equitable access to COVID-19 vaccines led by UNICEF, Gavi, the Vaccine Alliance, the World Health Organization, the Coalition for Epidemic Preparedness Innovations, and others.