Employment
SADC RECRUITMENT DRIVE-Personnel Licensing Inspector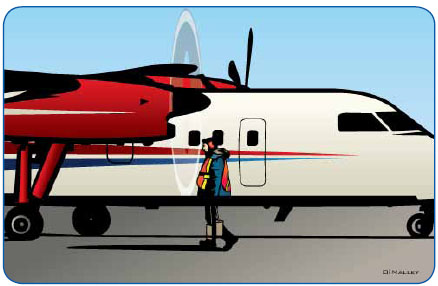 PERSONNEL LICENSING INSPECTOR (OPERATIONS)
Duties and Responsibilities
Under the direction of the Executive Director of the Namibian Civil Aviation Authority and the
supervision of the Chief, Personnel Licensing, perform the following duties on a part-time basis
(4 days per month):
1.Managing the oversight programme for designated flight examiners and designated flight engineer
examiners in Namibia.
2. Managing the appointment, training, and monitoring (oversight) of designated flight examiners and
designated flight engineer examiners.
3. Managing the investigation of any non-compliances or suspected non-compliances and the
recommendation of appropriate actions with respect to designated examiners.
4. Reviewing and amending of Practical Test Standards and Guides for Designated Examiners.
5. Providing on-going mentoring and education to designated examiners on their responsibilities,
accountabilities, power and authority.
5. Reviewing exceptions/exemptions with respect to test performed by designated examiners and
make recommendations to the Chief of PEL and the Director with respect to the exception/exemption
after completion of a safety risk assessment.
6.  Providing advice to NCAA management and the general aviation industry with respect to the
designation of examiners.
7.  Conducting inspections or investigations required by Parts 13 and 185 of the regulations, when
required, as far as designated examiners are concerned.
8.  Assisting in the review, development and promulgation of civil aviation regulations and guidance
materials, standards and safety initiatives pertaining to designated examiners.
9.  Managing standardisation and safety awareness programmes for designated examiners.
10. Maintaining a record keeping system for designated examiners in accordance with the NCAA
approved filing system.
More details can be found in the below link
Vacancy Announcement – SeniorPersonnelLicensingInspector_OPS_May2017.pdf
All applications shall be sent by email with a covering letter and Curriculum Vitae attached.
Applicants must, in their application, specifically demonstrate how their experience, skills and
qualifications would address the Duties and Responsibilities of the project vacancy. The subject
field should include the applicants name and clearly indicate the project vacancy applied for.
Send to:
Project Coordinator
ICAO Project NAM 14/801
stolsl@ncaa.com.na
Closing date: 16:00, Friday, 9 June 2017
ONLY APPLICATIONS FROM APPLICANTS WHO ARE FROM SADC MEMBER STATES SHALL  BE CONSIDERED.
Please note that only short-listed candidates will be contacted and the recruitment process might
not necessarily end up in an appointment being made. Please note that all successful applicants shall be subject to a formal medical assessment prior to the ssue of contract.