Health
Squads give a big booty but sure they give some life too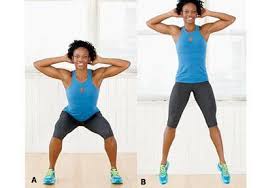 It is commonplace for your women to want to do squads for that big booty because it is considered the in thing but there are a number of key health benefits that squads can offer.
Burn More Fat
One of the most time-efficient ways to burn more calories is actually to gain more muscle! For every pound of additional muscle you gain, your body will burn an additional 50-70 calories per day. So, if you gain 10 pounds of muscle, you will automatically burn 500-700 more calories per day than you did before.
Prevent Injuries
Most athletic injuries involve weak stabilizer muscles, ligaments and connective tissues, which squats help strengthen. They also help prevent injury by improving your flexibility (squats improve the range of motion in your ankles and hips) and balance, as noted above.
Help with Waste Removal
Squats improve the pumping of body fluids, aiding in removal of waste and delivery of nutrition to all tissues, including organs and glands. They're also useful for improved movement of feces through your colon and more regular bowel movements.