Employment
Vacancies For Safety Management (2 POSTS) At Ba Isago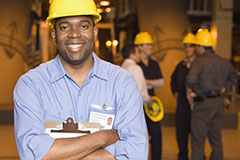 Job description
Applicants must be able to lecture in the following modules at undergraduate level;
Occupational Health, Safety Law, Safety Principles & Practice and Safety Management.
Qualifications:
A Master's Degree in Safety Management, OccupationalHealth and Safety & Environmental Health. A relevant Doctorate Degree will be an added advantage.
Experience:
Relevant experience in Occupational Health and Safety needed and also Teaching/training experience required.
Company
The University is inviting suitably qualified candidates to apply for the above position tenable at its campuses in Gaborone, Francistown and Maun.
Closing date and application instructions
Only short-listed candidates will be contacted after the closing date.
All correspondence to be forwarded to the
The Director, Human Resources Department
Private Bag 149, Suite # 268, KgaleView Postnet, Gaborone
Tel +267 3957744
Email: recruitment@baisago.ac.bw
Closing Date: 25th August 2017
Location
Gaborone/ Francistown/ Maun
Company
BA ISAGO University