News
Road Show To Benefit Artistes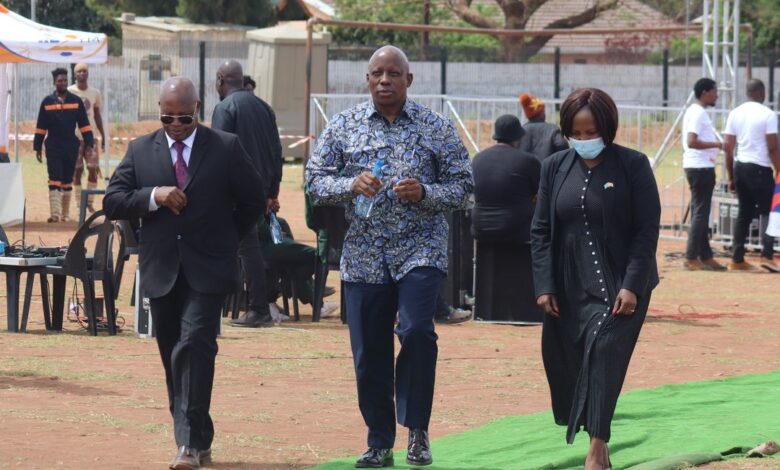 Over 200 artistes are expected to directly benefit from Department of Broadcasting Services' nationwide road show meant to stimulate the creative industry.
The Minister for State President, Kabo Morwaeng, launched the road show in Kanye on September 20.
The road show, which will result in 50 events across the country, will end with the final in Molepolole.
"These roadshows are part of engagements that my ministry has embarked on to stimulate the growth of this industry," he said.
He said this was also in response to the effects of COVID-19, which robbed artistes of the capacity to earn a living.
"To put it into context, my ministry, through the Department of Broadcasting Services, remains deeply touched by effects of the COVID-19 pandemic on artists and creative industry at large," Morwaeng said.
He shared that the project was an exciting initiative as it was youth-centric where many young lives across the country would be positively influenced.
"As the ruling party, through President Dr Mokgweetsi Masisi's announcement of the Reset Agenda, our promise is to facilitate the creative industry. We recognised very early on, the potential for this industry to significantly transform the economy of the country. This pledge is now being given impetus by the launch of these series of roadshows," he said.
Morwaeng said the value chain or spillover benefits would accrue to local businesses including more than 80 citizen-owned accommodation outlets.
He said this came about after the commitment to enforce an 80 per cent quota for local artists on the media platforms, especially radio and television.
"We, in partnership with COSBOTS, have been conducting workshops geared towards enabling Batswana to benefit from their creative products," he said.
The minister said a workshop was also held for the staff at the department of broadcasting to retool and up-skill them to perform at a better level in the rapidly changing broadcasting industry.
"In addition, and with a clear intention to stimulate growth of the local creative industry, we will soon be launching multi-channel broadcasting under Botswana Television.
It is my strong belief that this will result in more local content production, to which I pledge full support," he said.
Morwaeng shared that there were a number of projects intended to create a conducive platform for the creative industry, adding the department was improving its studio capacity, with the aim to help young film-makers to generate and provide content without equipment constraints.
"The envisaged multi-tv channels will require a lot of content and as such I wish to invite the creative industry to brace itself. We need more content from Batswana and about Batswana," he said.
He indicated that as government drove toward a knowledge-based economy, determination was on accessing a significant slice of the global yield of the trade in creative goods and services.
For his part, South Africa-based radio personality and entrepreneur, also owner of Big Dawg Production, Thato Sikwane aka DJ Fresh, said he was pleased to be engaged in this project.
"In this industry, we have to work together. Through this tour we will engage with many artists with the aim of empowering them on how they can better enhance their craft," he said.
DJ Fresh shared that Botswana had talent that needed to be nurtured.
He said government was committed to growing the arts industry.
"This is a great empowerment project for the creative industry. When we conceptualised the road show, priority was given to artist collaboration.We have assembled a solid team of young, reputable professionals that have in turn employed over 20 young people who will passionately deliver various aspects of the project on a full-time basis," he noted. BOPA