Music
𝐆𝐑𝐄𝐀𝐓 𝐎𝐏𝐏𝐎𝐑𝐓𝐔𝐍𝐈𝐓𝐘: 𝐂𝐀𝐋𝐋𝐈𝐍𝐆 𝐀𝐋𝐋 𝐌𝐔𝐒𝐈𝐂 𝐈𝐍𝐃𝐔𝐒𝐓𝐑𝐘 𝐏𝐋𝐀𝐘𝐄𝐑𝐒!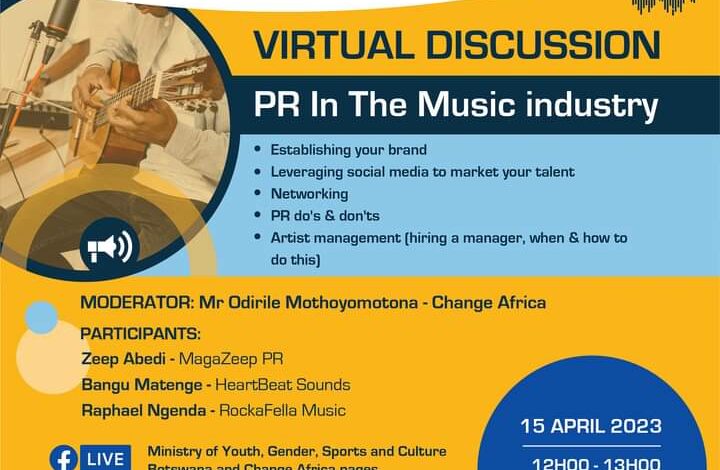 𝐏𝐑 𝐈𝐍 𝐓𝐇𝐄 𝐌𝐔𝐒𝐈𝐂 𝐈𝐍𝐃𝐔𝐒𝐓𝐑𝐘- 𝐕𝐈𝐑𝐓𝐔𝐀𝐋 𝐃𝐈𝐀𝐋𝐎𝐆𝐔𝐄
The Botswana-EU Policy Dialogue Facility in partnership with MYSC together with NACB will host the 'PR In the Music Industry Virtual Dialogue'.
Join Us On our Facebook page This Friday, 15th April 2023 from 1200HRS to 1300HRS.
Zoom link: https://us02web.zoom.us/j/89981972479?pwd=TVp6cERVN09QYXFBWEpTdUJWVm9yQT09
Remember to share with us your thoughts and experiences using the #PutItInTheMusic
𝐌𝐞𝐞𝐭 𝐓𝐡𝐞 𝐏𝐚𝐧𝐞𝐥𝐢𝐬𝐭𝐬:
𝐌𝐑. 𝐏𝐀𝐊𝐎 𝐙𝐄𝐄𝐏 𝐀𝐁𝐄𝐃𝐈
Zeep Abedi is the founder and director of Magazeep PR. Magazeep is a talent management, event management, advertising and promotions company with a vast knowledge in the advertising and promotion industry coupled with a track record of over 10 years in the industry.
The company currently manages several artists such as Vee Mampeezy, Charma Gal, Culture Spears, Chef Gustos, Penene Ponono, Maatla Ephraim Basha and Rittar. Magazeep PR has coordinated events such as Pretty Girls Love Amapiano, Born and Raised, GIMC Fest, Pula Power Spring Fest Just to name a few. It is currently Botswana's leading PR agency operating in the entertainment space.
𝐌𝐑. 𝐁𝐀𝐍𝐆𝐔 𝐌𝐀𝐓𝐄𝐍𝐆𝐄
Bangu Matenge is the Managing Director at Heartbeat Sounds. He is affectionately known for his multi award nominated Hip Hop Single "HANI MU BONE" in 2015 composed in Kalanga. He is also a self-taught, renowned producer and sound engineer with over a decade of professional experience in the Entertainment Industry. He has produced for the likes of Charma Gal, Bouncy, HanC, Frost Legato, MMP Family, Khoisan and the late Dramaboi and Sasa Klaas.
𝐌𝐑. 𝐑𝐀𝐏𝐇𝐀𝐄𝐋 𝐍𝐆𝐄𝐍𝐃𝐀 (𝐑𝐎𝐊𝐀𝐅𝐄𝐋𝐋𝐀 𝐔𝐍𝐈)
RockaFella Uni is a Motswako artist with a formidable catalogue. He has a gold status Album (Fella Kuti EP) and Singles (Bogale so, Sponono feat Baxon). RockaFella prides himself in making music that speaks to the struggles of a Modern-day Motswana Youth, aspiring to impact the lives of these young people. He has collaborations with the likes of Local Corner Multimedia, The Photographers, William Last KRM, Veezo View and other formidable Botswana brands. The vision is to be a world-renowned musician and impact lives across the world with his Music. He holds a BSC. In Agricultural Economics and a certificate in Agro Chemicals.